Posted on
Thu, Sep 16, 2010 : 6:02 a.m.
The Week in Beer: To Oktoberfest and beyond!
By David Bardallis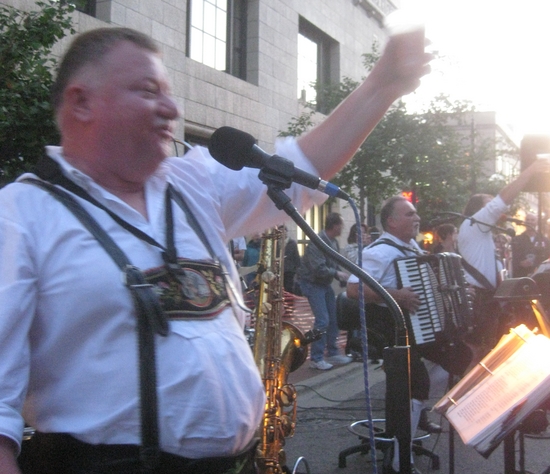 David Bardallis | Contributor
In a lesser beer community, one big Oktoberfest party might be all you get. But we're fortunate enough to live in Washtenaw County, where last weekend's bash on downtown Ann Arbor's Washington Street was just the beginning of our area's love affair with Bavarian tradition — and beer. There are more Oktober-festivities ahead, along with many other beer-related treats, in your Week in Beer, below.
Today
From 6-9 p.m. at the Dexter home of Bill and Mary Kinley, it's Suds on the River, a salute to the water of the Huron River, which, among other things, helps bring great-tasting local beer to our lips. As proof, Arbor Brewing, Grizzly Peak, Jolly Pumpkin and Wolverine State Brewing Co. will all be offering their brews at this annual fundraiser for the Huron River Watershed Council. Water-related activities, food from some of the best area restaurants and live music from local favorite Great Myths Society round out the event. Tickets are $75 for members of HRWC, or $100 for nonmembers. Call or email Margaret Smith at 734-769-5123 ext. 605 or msmith@hwsc.org for more information, or visit www.hrwc.org to order tickets.
Friday
Get ready for another crazy line of beer drinkers forming outside of Jolly Pumpkin Café & Brewery, 311 S. Main St., for the 4 p.m. release of Biere de Goord, a very limited-release saison-style ale brewed by Jolly Pumpkin brewmaster Ron Jeffries for Pints for Prostates, a group that encourages men to get regular cancer screenings. The beer sounds pretty intriguing to these ears; ingredients include kale, pumpkin seeds, pumpkin, and green tea. There's a limit of two bottles per customer, assuming you get in line early enough.
Don't miss your last chance this year to see Matt and Rene Greff decked out in their lederhosen and dirndl outfits! Oktoberfest commences at the Corner Brewery, 720 Norris St., Ypsilanti at 6 p.m. Enjoy brats, beer, and live music from German band Spass outside in the beer garden. Maybe the power will even stay on in the brewery! No cover; children welcome with parents until 9 p.m.
Saturday
Oktoberfest heads south to Original Gravity, 440 County St., Milan, with OG's own party in honor of all things Bavarian. The Michigan Wolverines will kick things off at noon on the tube with their game against the mighty University of Massachusetts Minutemen. Then at 1 p.m. smoked sausage, sauerkraut, soft pretzels, and German potato salad will be served, alongside great OG brews like Old Skool Altbier. From 5-9 p.m., live band Sounds of Germany provides appropriate accompaniment. No cover.
Sunday
Halcyon Sundaze 2010, also at Corner Brewery, wraps things up with a late summer tribute to old vinyl classics and chill grooves of newer vintage. Cousins Vinyl will have crates of records, a rotating cast led by DJ Dannyboy will supply the beats, and the last batch of Halcyon Summer Wheat will be tapped. Rumor again has it your correspondent will be rocking a set of songs hearkening back to his long-ago college days. The fun begins at 2 p.m., and as always, there is no cover.
Notes on the Napkin

There is a consolation prize if you miss out on your Jolly Pumpkin Biere de Goord: La Parcela No. 1 Pumpkin Ale has been released, and my taste buds insist it is one of the best pumpkin-style ales you're likely to try. Look for it on tap at the café and, if you're computer-inclined, check out this video of Ron Jeffries discussing the beer.
Looking for a good downtown deal on take-home beer? This month, check out Main Party Store, 201 N. Main St., for $9.99 six-packs of AXL Pale Ale in 16-oz. cans from MillKing It Productions, the collaborative brainchild of the good folks at Rochester Mills Beer Co. and brewer Scott King of the late, lamented King Brewing Co. Craft beer in cans? Yes! Try it; you'll like it. Also available: Four-packs of Dogfish Head's Punkin Ale for $6.99, a great seasonal brew from one of the country's premier craft brewers. These are, in my opinion, the two best deals, but check Main's Web site for other specials.
Beer class is back in session for the fall semester! Mark Sept. 23 for "Intro to Beer Tasting," a three-hour course on the brewing process, beer ingredients and the techniques and vocabulary you need to know for proper beer evaluation and appreciation. Tuition is $49 and includes beer samples as well as a light meal. Advance registration is required; visit www.wccnet.edu/lifelong-learning/ for details and to sign up.
While you're marking your calendar, also put an X on Sept. 21 for the Oktoberfest party at Ashley's, 338 S. State St., which will feature eight O-fest style beers on tap.

David Bardallis is a freelance writer and editor, blogger, bon vivant, and man about town. Visit his website, DavidBardallis.com, to engage his services or read his latest. E-mail your beer-related thoughts to annarborbeer@gmail.com, follow @dbardallis on Twitter, or join the "All the Brews Fit to Pint" Facebook page.