Posted on
Thu, Sep 30, 2010 : 6:02 a.m.
The Week in Beer: Kicking off a scary good month
By David Bardallis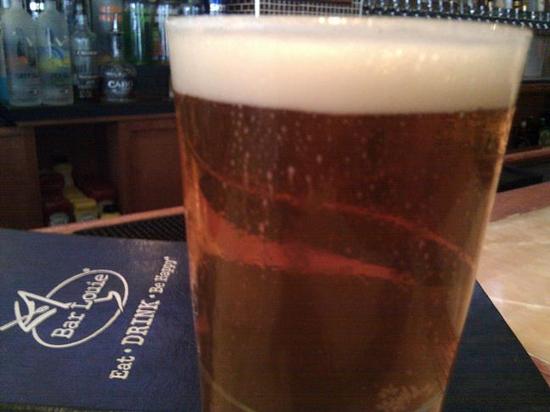 David Bardallis | Contributor
Warning: You are now entering the spookiest month of the year, when ghouls, ghosts, and goblins come out to play; when vampires and zombies seek the blood of the living; when travelers are not safe on the roads alone at night. It's also when you have to clear all those leaves out of your gutters and begin the fun process of weather-stripping your house. Either way, at some point you'll probably want to hunker down with a good beer to ward off the bad vibes, and you, friend, are in luck with the many exceptional ways you can do just that here in our local hamlet. I present to you your first truly autumnal Week in Beer, below.
Friday, October 1 » Vices, we got 'em! If yours include chocolate and beer, Jolly Pumpkin Café & Brewery, 311 S. Main, is the place you want to be for the obviously named "An Evening of Chocolate and Beer: Experimenting with Flavors." The event is in two parts: At 5:30 p.m. is an informal beer and chocolate talk and tasting with owner/brewer Ron Jeffries and Alan McClure of Patric Chocolate. At 8 is a four-course pairing party featuring dishes inspired by Alan's chocolate and matched with beers Ron brewed for the event. Tickets for the informal talk and tasting are $15, $35 for the four-course pairing, or $45 for both. Limited availability: Call 734-913-2730 to reserve your place.
Saturday, October 2 » Missed out on all the local Oktoberfest fun, or just haven't satisfied your insatiable German fix? You can rectify either situation by sitting in at Rene Greff's latest beer appreciation class at Arbor Brewing, 114 E. Washington: "The Beers of Germany" from 2-5 p.m. in the Tap Room. Tuition is $49 and includes tastes of notable styles such as kolsch, altbier, kellerbier, rauchbier, dopplebock, Berlinerweisse, pilsner, hefeweizen, starkbier, and, of course, Oktoberfest. Spots were still available as of this writing, but advance registration is required through Washtenaw Community College's Lifelong Learning program. Needless to say, you must have attained the proper government-approved drinking age.
Tuesday, October 5 » We're not finished with Germany yet! Arbor Brewing's seasonal Olde No. 22 German Alt is back beginning tonight. From 6-8 p.m. at the Corner Brewery, 720 Norris, Ypsilanti, the alt will be flowing and the snacks will be, um, snacking at the latest in Arbor's regular release parties, free for Mug Club members and $10 for the you-ain't-from-around-here-boy-are-you? types. If you decide you really dig the dark and malty yet surprisingly light and balanced brew and want to take some home, sixpacks are also available at a discounted price.
» Over at Grizzly Peak, 120 W. Washington, the monthly Brewer's Night is back. Drop in from 6-9 p.m. for discounted beer samplers, brewery tours personally conducted by brewing demigod Duncan Williams, and a taste of something special on cask — in this case, all your correspondent knows is it will be blended and oak-aged. Come on, what else are you gonna do on a Tuesday night, anyway?
Notes on the Napkin
Ashley's, 338 S. State, brings back its Kegs and Eggs pre-game events beginning October 9, when the Michigan State Spartans come to town ripe for a butt-kicking, Wolverine style. The pub opens early and puts on a spread, though as of this writing exact times and details have yet to be determined. If you think drinking beer in the morning until the 3:30 kickoff is a good idea (oh, it is, it is) call the pub at 734-996-9191 and ask what's on tap.
It's been a long time since I mentioned this, so I wanted to throw it out there again: Every Wednesday at Bar Louie, 401 E. Liberty, is $3 beer time, all day long. That means all of their 20-ish taps, which at any given time feature many notable Michigan and other microbrews, are $3 a glass. It's one of the best deals in town if you're a beer nerd, so be sure to check it out. (Their $1 burger night on Tuesdays ain't bad either!)
Current Michigan drafts include Bell's Oktoberfest and Two-Hearted Ale, Dark Horse Crooked Tree IPA, Founders Breakfast Stout, New Holland Full Circle Kolsch, Arcadia Jaw Jacker, and many others.
Jolly Pumpkin's cider is back on tap at the café, for those who appreciate alcoholic apples over pumpkiny beers. And, by the way, congratulations to brewer Ron Jeffries and crew at Jolly Pumpkin for winning a gold medal in the Specialty Beer category at the recently concluded Great American Beer Festival in Denver, Colorado, for Belipago Ale, a gluten-free Belgian-style IPA! Give it a try, even if you normally love your glutens. Check the GABF site for the full list of winners, which includes six other Michigan brewers.
Mark October 12 on your calendar for the fourth Ann Arbor IGNITE, where my compatriot Patti Smith will be giving a talk entitled, "I Pass Gas Out of My Bunghole." It's not what you think: She's talking about fermentation, and the rest of the process of brewing a beer. Event starts at 7 p.m. at Blau Auditorium at UM's Ross School of Business and is free, though RSVPs are necessary. Visit www.igniteannarbor.com for the full list of speakers and to ensure your spot.
David Bardallis is a freelance writer and editor, blogger, bon vivant, and man about town. Visit his website, DavidBardallis.com, to engage his services or read his latest. Email your beer-related thoughts to annarborbeer@gmail.com, follow @dbardallis on Twitter, or join the "All the Brews Fit to Pint" Facebook page.