Posted on
Thu, Jul 14, 2011 : 12:46 p.m.
The Week in Beer: Hard at 'work' in Traverse City
By David Bardallis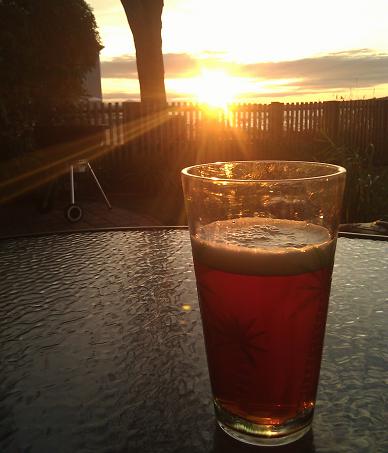 David Bardallis | Contributor

Life's a beach, my friends! I'm writing this from alongside a nice, sandy stretch of Lake Michigan whilst up in Traverse City conducting some "research" into the burgeoning beer scene here.
It may not yet rival our local scene, but having a big lake is certainly pretty cool. Here's your latest Week in Beer to enjoy while I get back to my "research". It's a rough job, I tell ya.
Thursday
>> Beer tasting tonight! Head to Arbor Brewing Co., 114 E. Washington St., Ann Arbor, from 7-9 p.m. for a couple of dozen American wheat ales, Belgian wits and lambics, and other summer-style beers. Enjoy an appetizer buffet and door-prize raffle while you're at it. Tickets are $30; call 734-213-1393 for yours.
Friday
>> Fraser's Pub, 2045 Packard, Ann Arbor, is celebrating the week leading up to the Michigan Brewers Guild Summer Beer Festival all week with specials on 16 oz. glasses of featured Michigan craft beers. Get your fest on early with Fraser's selection of tasty Great Beer State brews!
Saturday
>> Preceding the more well-known chaos of the Ann Arbor Art Fair is the Summer Shadow Art Fair at the Corner Brewery, 720 Norris, Ypsilanti. Twice a year (there is also a Winter Shadow Art Fair), this juried event takes place within the cozy confines of the brewery, where local artists, musicians, beer drinkers, and others create a distinctive celebration of community and creativity. Enjoy the sights, sounds, and tastes from noon to midnight, and visit shadowartfair.com for more details.
>> If you're not art-ed out, then you can also swing by Wolverine State Brewing, 2019 W. Stadium, Ann Arbor, for the first annual Wolverine West Side Art Fair, beginning today and going through July 24. The work of four artists — John Copley, Shaun Williams, Charles Owens, and Keith Maguire — will be on display and available for purchase. And, of course, lots of great Wolverine brews will be on tap, including Bourbon Barrel Aged Dark Lager, Wench's West Side Wheat Ale, Insolent Mink IPA, Classic American Pilsner, District 16 Amber Lager, and more. You've gotta have art ... and beer!
Sunday
>> Come back to the Corner at 1 p.m. for the second round of token counting for the upcoming Summer Beer Festival. If the weather cooperates, the counting out of 100,000 tasting tokens into individual packets will take place out in the beer garden. The best part? The Brewers Guild will pay for any beer you incidentally consume while counting.
>> Or, if you're out Plymouth way, check out the 5th annual Bumpers, Bikes and Bands Festival beginning at noon right outside the doors of Liberty Street Brewing, 149 W. Liberty, who is releasing a small-batch beer appropriate for the occasion: Burnout Stout. Drink some great beer while you check out the more than 100 cars, trucks, bikes, and other custom vehicles on display and groove to some live tunes.
Notes on the Napkin



The Summer Beer Festival is shaping up to be another record-breaker this year, with 62 breweries serving what looks to be more than 400 different beers, July 22-23 in Ypsilanti. To keep up with the latest list of brews, check mbgmash.org. And don't forget to pick up your ticket now — you don't want to be left out in the cold. Or heat, as the case may be.

On tap at the Grizzly Peak Den this weekend: Saison du Chene, a version of La Fille du Fermier Saison aged on French oak chips, and soon to follow that, Oasthouse American Wheat, a crisp refreshing brew featuring a generous dose of hops from across the pond (that's England and the continent, don't you know).

I don't know how widely read this column is, but if you're reading this and happen to live up in the Howell area and need a lift to the Summer Beer Festival in Ypsilanti, you may want to get in touch with Jon Cole at the Shark Club, who is organizing a bus to and from the fest. Hit him up at beergeekhowell@gmail.com.

Up for a bit of a road trip? The Local Pub and Brewery is now officially open in Jackson at 6020 Ann Arbor Road, just off I-94 at the former site of Zig's. And lucky for those of us making the drive from the Ann Arbor-Ypsilanti area, they specialize in "session," or low-alcohol, brews, so you can indulge a bit and still be safe. Tell 'em I sent you!


David Bardallis is a freelance writer and editor, blogger, bon vivant and man about town. Visit "All the Brews Fit to Pint" at AnnArborBeer.com, follow @allthebrews on Twitter, or join the "All the Brews Fit to Pint" Facebook page. Email your beer-related thoughts to annarborbeer@gmail.com.