Posted on
Thu, Dec 22, 2011 : noon
The Week in Beer: Witch's Hat Brewing ready to open in South Lyon
By David Bardallis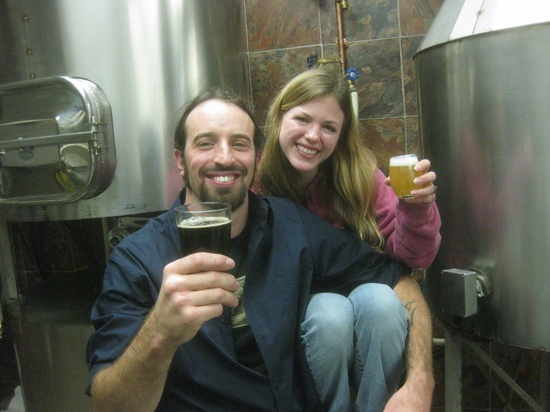 David Bardallis | Contributor
Following several years of plotting and planning, husband and wife Ryan and Erin Cottongim are ready to open their new brewery at 22235 Pontiac Trail. Witch's Hat Brewing Co., named after the historic South Lyon train depot where the pair were married in 2007, flings its doors wide at noon the day after Christmas.
The project was born not only out of a mutual passion for craft beer but also from a love of community, making the decision about where to locate a no-brainer.
"We both grew up in South Lyon, went to school here, got married here; this is definitely home," says Ryan. "It's great to be able to create something new in this little town that's treated us so well over the years."
The missing ingredient of opportunity came along when he and Erin joined the ranks of the involuntarily unemployed together. "We were starting a local homebrewing club and had already begun bouncing around the idea of a brewery," he says. "So when we were laid off at the exact same time, we thought 'Why not give it a shot?'"

Their shot includes a locally designed and built four-barrel brewing system on which Ryan expects to create beers from recipes he's been developing since he started homebrewing in 2004 as well as newer experiments as he gains more experience on the system. ("Every batch is a learning process," he says.)
The bar itself features 12 taps, eight of which will be occupied with beer on opening day. The brews range in style from the light-bodied Lyger, an ale-lager hybrid in the California common tradition, to their "pride and joy," Holy Confusion, a heavy barleywine style ale that received rave reviews at the last Michigan Winter Beer Festival, when it was contract brewed by Frog Island Brewing. Also on tap expect to find an IPA, a hefeweizen, an Irish red, a brown, a Belgian-style ale and 1908 Smoked Wheat Ale, so named in honor of the original Witch's Hat train depot, which burned to the ground more than 100 years ago.
Root beer and cream soda are available for those who prefer soft drinks. On-premise food is limited for now to a popcorn machine, but the brewery's strip mall location offers many opportunities for BYOG (bring your own grub), including nearby Chinese and Italian restaurants, a pizza joint and fast food options like Taco Bell. Erin also anticipates carrying products from Blue Apron Baking Co., another family-run local business.
The space itself was previously occupied by a coffee shop, and it maintains a cozy cafe atmosphere that includes a gas fireplace and table-tops Erin created using the couple's extensive beer bottlecap collection. Old-school conductor's lanterns provide ambient lighting while carrying the train theme forward, and work by local artists and photographers adorns the walls (and is offered for sale).
Also for sale: Witch's Hat logo T-shirts, hoodies, and pint glasses as well as to-go growlers and Mug Club memberships, which are $75 for a basic lifetime membership or an additional $50-$100 for those wishing to also have their own unique hand-blown glass mugs.
Membership includes $1 off drafts all day every day, half off growler fills every Tuesday, a free logo shirt and pint glass, and 20-ouce pours instead of 16-ounce pours.
Visit Witch's Hat Brewing Monday through Thursday from 2 p.m. to midnight and noon to midnight Friday and Saturday (the brewery is closed on Sunday), give them a call at 248-486-2595, or go online at witchshatbrewing.com.
Notes on the Napkin
Still Christmas shopping? On Dec. 23, Arbor Brewing is hosting its "Last-Minute Retail Sale," which includes discounts and specials on apparel, carryout beer, gift cards, Mug Club memberships, and more. Check it out while you enjoy a pint of Black Magic Coconut Porter, specially re-released for the day.

Also on Dec. 23: An 8 p.m. screening of "National Lampoon's Christmas Vacation" at Original Gravity Brewing in Milan. There's no cover, and if you dress in your "most festive" (i.e., ugliest) holiday sweater, you might win a $25 gift certificate.

As if that weren't enough, that same night there's a six-stop Santa Claus pub crawl in Ypsilanti sponsored by the Depot Town Merchants Association. The fun begins at 7:30 p.m. at the Corner Brewery. Email cafeollie@gmail.com for more information and to register for the event, which has a $5 fee but includes happy hour specials at each location. And don't forget to dress in a Santa suit!

Grizzly Peak, Blue Tractor and Jolly Pumpkin are all running December specials whereby if you purchase $50 in gift certificates, you also receive a different cool benefit each month of 2012, including free or discounted food, beer and logo merchandise. Check the respective breweries for exact details.

Finally, on Christmas Eve, growler fills are half off for Mug Club members at Wolverine State Brewing (limit 2) and all other merchandise is 10 percent off for everybody. Hours are 12-4 p.m.
David Bardallis is a freelance writer and editor, blogger, bon vivant, and man about town. Visit "All the Brews Fit to Pint" at AnnArborBeer.com, follow @allthebrews on Twitter, or join the "All the Brews Fit to Pint" Facebook page. Email your beer-related thoughts to annarborbeer@gmail.com.