Posted on
Thu, May 31, 2012 : 2:02 p.m.
Third annual Camp Bacon coming to Ann Arbor this weekend
By Jessica Webster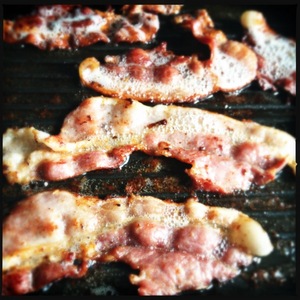 The bacon capital of the world shifts to Ann Arbor this weekend as Zingerman's hosts the third annual
Camp Bacon
at various sites around town.
The events kick off tonight with a sold out "Bacon Ball" at Zingerman's Roadhouse, where Roadhouse chef and managing partner Alex Young and fellow James Beard award-winning chef Frank Stitt from Highlands Grill in Birmingham, Ala. will cook up a bacon-centric menu. The Bacon Ball is a fundraiser for the Southern Foodways Alliance.
Friday night will find Chefs Young and Stitt cooking up bacon and barbecue pairings at another special dinner at Zingerman's Roadhouse at 6 p.m. Tickets to the Alabama Bacon BBQ Dinner are $55 per person.
Also on Friday night, Camp Bacon presents Mississippi hill country blues blues man Kenny Brown at the Ark (316 S. Main St.). After more than a quarter of a century on the road with the legendary R.L. Burnside, Brown has been making a name for himself as a bandleader and guitarist. Doors open at 7:30, and ticket proceeds benefit the Southern Foodways Alliance.
Saturday is the main event — a gathering of bacon experts, purveyors, scholars, archeologists and lovers. Festivities run from 8 a.m. to 4 p.m. at Zingerman's Roadhouse. Your $195 ticket will get you a day's worth of expert presentations, breakfast, lunch and "more bacon than you knew you could eat."
Also on Saturday, Camp Bacon is joining forces with Michigan Theater's Cinetopia film festival to present Southern Foodways Smorgasbord, a selection of food-related short films from director Joe York. York and Zingerman's founder Ari Weinzweig will be on hand for a Q&A. The screening takes place at 5 p.m. at UM Angell Hall Auditorium A. More information can be found at the Cinetopia site.
Camp Bacon wraps up on Sunday with an open-to-the-public bacon fair from 11 a.m. to 2 p.m. at the Ann Arbor Farmer's Market, 315 Detroit St. Vendors will be on hand to sell and sample bacon and bacon-related products. Suggested donations will benefit the 4-H­ Club­ of­ Washtenaw­ County.
For more information, check out the Zingerman's Camp Bacon website.
Kenny Brown, recorded live at the Sunflower Blues Festival in 2010 :