Posted on
Thu, Dec 6, 2012 : 12:20 p.m.
This might just be the best broccoli you'll ever make
By Jessica Webster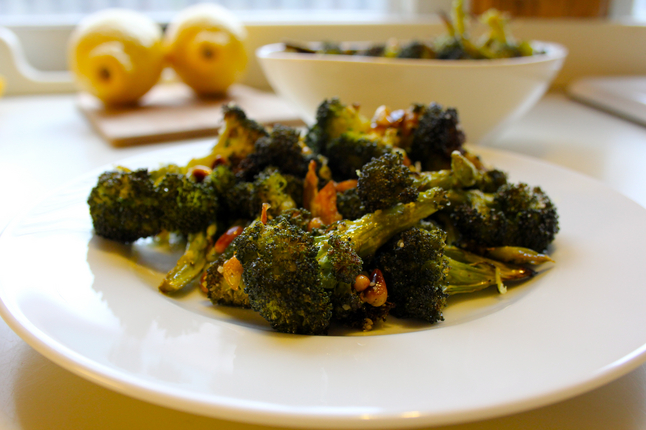 Jessica Webster | AnnArbor.com
When you're dealing with a 10-year-old, vegetables can be a touchy subject. First you have to find a vegetable that they're willing to entertain the idea of eating. Then you have to prepare it in what they'd consider to be an appealing manner. And if you manage to do all of that, you have to make sure not to repeat it so often that they get tired of it.
For this reason, I am always on the hunt for new ways to prepare broccoli and cauliflower — two of the limited menu of vegetables my son will grudgingly consume.
I recently stumbled across a photo of a tray of roasted broccoli on the social media site Pinterest, hyperbolically labeled: "the best broccoli of your life." It didn't look especially appealing in the photo, but how do you pass up The Best Broccoli Of Your Life? It was time to put the recipe to the test.
I had never tried roasting broccoli — for me, broccoli was strictly a steam-it or stir-fry-it vegetable. But Ina Garten — the originator of this recipe — has never met a vegetable she didn't want to roast. And she's on to something there, as it turns out.
The recipe calls for parmesan, pine nuts and basil, but you can make it as simple or complicated as you like. The real key is the garlic, the olive oil, the lemon and high heat. The broccoli gets nice and crispy, the lemon gives you a nice tangy brightness, and roasted garlic makes pretty much every vegetable dish better.
Toasting pine nuts is easy. Just set them in a dry skillet over medium heat, stirring frequently for about 5 minutes, until the pine nuts are nicely browned.
Ina Garten's Parmesan Roasted Broccoli (From The Barefoot Contessa - Back To Basics)
Ingredients
4 to 5 pounds broccoli
4 garlic cloves, peeled and thinly sliced
Good olive oil
1 1/2 teaspoons kosher salt
1/2 teaspoon freshly ground black pepper
2 teaspoons grated lemon zest
2 tablespoons freshly squeezed lemon juice
3 tablespoons pine nuts, toasted
1/3 cup freshly grated Parmesan cheese
2 tablespoons julienned fresh basil leaves - about 12 leaves (optional)
Directions
Preheat the oven to 425 degrees.
Cut the broccoli florets from the thick stalks, leaving an inch or two of stalk attached to the florets, discarding the rest of the stalks. Cut the larger pieces through the base of the head with a small knife, pulling the florets apart. You should have about 8 cups of florets. Place the broccoli florets on a sheet pan large enough to hold them in a single layer. Toss the garlic on the broccoli and drizzle with 5 tablespoons olive oil. Sprinkle with the salt and pepper. Roast for 20 to 25 minutes, until crisp-tender and the tips of some of the florets are browned.
Remove the broccoli from the oven and immediately toss with 1 1/2 tablespoons olive oil, the lemon zest, lemon juice, pine nuts, Parmesan, and basil. Serve hot.
Jessica Webster leads the Food & Grocery section for AnnArbor.com. Reach her at JessicaWebster@annarbor.com. You also can follow her on Twitter or subscribe to AnnArbor.com's email newsletters.