Posted on
Thu, Mar 21, 2013 : 4:31 a.m.
Tex-Mex Chicken, Pepper and Rice Casserole - this make-ahead dish will please many palates
By Peggy Lampman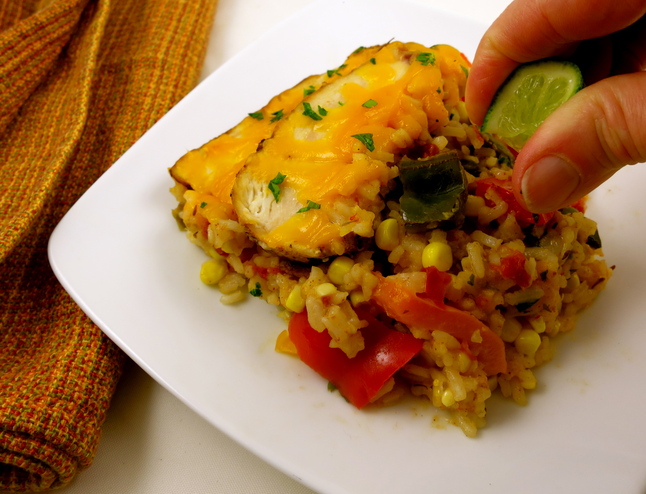 Peggy Lampman | Contributor

My dinnerFeed web site is a lean,
mean fighting machine!
To receive my lastest dinnerFeed posts
by email, sign up here.
I volunteered to make a casserole to feed a family of four, which had to pass a great deal of criteria.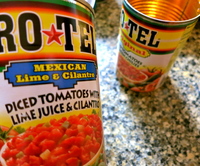 The day I promised to deliver, my schedule was booked, therefore said dish must be made a day in advance, baked off the following evening, and delivered hot at supper-time. It had to be a complete meal in one dish — protein, starch and vegetables — and satisfy palates that preferred spicy to run-of-the-mill, yet it must also be teenage,fast-food-palate friendly.
Not done yet. This dish must be no-bones hassle and scoopable — lap-friendly, if required. I also wanted a colorful, festive plate, with enough food so there would be leftovers the next day for the microwave.
You'd think I'd have the perfect recipe up my sleeve. In fact, I did not. It's clear there's a deficit in my arsenal, so I developed the following, deciding a Tex-Mex chicken dish would be perfect. To me, Tex-Mex implies food that's not authentic to Mexican traditional cooking, but certainly more authentic than what you'd receive at a talking chihuahua chain. And — vegetarians aside — who can take issue with skinless, boneless chicken breasts? I had some ideas.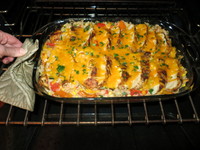 I worried chicken minus skin and bones would dry out in the casserole, so I purchased air-chilled chicken breasts. To me, this chicken is always worth the extra cash. According to meatpoultry.com, "Air-chilling or water-chilling chicken refers to the method used to cool the birds down after they are slaughtered...Water-chilled birds are dipped into ice cold water containing chlorine. Air-chilled chickens are cooled down by being moved through a cold air process." Since air-chilled chickens don't depend on ice-water for chilling, they don't absorb so much excess water, which may contain chlorine. As well, the chicken is juicier and more tender.To my palate, air-chilled chicken, especially the breasts, provide the best eating experience.
The pre-spiced canned tomatoes are a work horse in the recipe. I used two cans of Rotel, one with jalapeno and the other spiked with lime. Check out the Latin section of local groceries and let your palate be your guide.You may certainly use unadulterated diced tomatoes, but the rice will need additional punch; instinct is required to add your signature.
Don't let the lengthy directions throw you off; it's not difficult to make. Keep in mind the hoops this casserole had to jump through to please.
Yield: 8 servings
Active Time: 40 minutes
Bake Time: apx. 30 minutes
Ingredients:
2 cups uncooked, long-grain white rice (not instant)
2 (10 ounce) can Mexican seasoned canned diced tomatoes (such as Rotel) with juice
2-3 cups low-sodium chicken stock
2 teaspoons minced garlic
2 tablespoons unsalted Mexican seasoning blend*
4 tablespoons chopped cilantro
3 tablespoons canola or vegetable oil
2 large assorted colored bell peppers, seeds and membranes removed;cut into 3/4-inch pieces (3-4 cups)
1 poblano pepper, seeds and membranes removed; cut into 3/4-inch pieces
1 large jalapeno pepper, seeds and membranes removed; diced (1/4 cup)
3 ears corn, kernels removed (1 1/2 cups)
4 boneless, skinless chicken breast halves (about 2 1/2 pounds, air-chilled chicken, if available)
1- 1 1/2 cups sharp Cheddar cheese
Lime wedges, optional
*Powdered cumin, chili powder or any combination of Southwest seasonings fine; I used
Morton & Bassett Mexican Blend.
Directions:
1. Preheat oven to 350 degrees.
2. Rinse rice well. In a pot, bring tomatoes and chicken stock to a boil. Stir in rice, then reduce to a simmer and cover. Cook until rice has absorbed most of the liquid and is just tender, about 20-30 minutes depending on rice. Add additional stock to pot is rice is hard and stock is depleted. When cooked, remove from heat, stir in garlic, 1 tablespoon seasoning, 3 tablespoons cilantro and season with kosher salt, if needed. Let sit, covered, until ready to assemble with chicken and vegetables.
3. While rice is cooking, in a large sauté pan, heat one of the tablespoons oil over medium high heat. Add bell peppers, poblano and jalapeno and cook, stirring, 3 minutes. Remove from pan, stir in corn kernels, season with kosher salt if needed, and reserve.
4. Lightly season chicken breasts with kosher salt and rub 1 tablespoon Mexican seasoning blend into both sided of the chicken breasts. In the same pan you cooked the peppers, add remaining 2 tablespoons oil and heat over medium-high heat. Sear breasts 3 minutes per side, or until golden brown. (The meat should be just just white with a hint of pink at the center.) Remove from pan and when cool enough to handle, slice diagonally into 1-inch pieces.
5. When ready to assemble, stir vegetables into corn and place in an 8x12-inch baking dish. Arrange chicken pieces over rice, tucking them halfway into rice. Evenly sprinkle 1 cup cheese over casserole, adding more if desired. Cover with non-stick foil or oil that has been lightly oiled. (Casserole may be refrigerated up to 24 hours at this point.) Bake on center rack of oven 25 minutes.
6. Remove foil and bake an additional 5-10 minutes, or until cheese is melted. Sprinkle with remaining tablespoon cilantro and serve with lime wedges, if using.
Peggy Lampman is a real-time food writer and photographer posting daily feeds on her website and in the Food & Grocery section of Annarbor.com. You may also e-mail her at peggy@dinnerfeed.com.