Posted on
Tue, Dec 6, 2011 : 3 p.m.
Toasted coconut haystacks are an easy no-bake holiday cookie
By Mary Bilyeu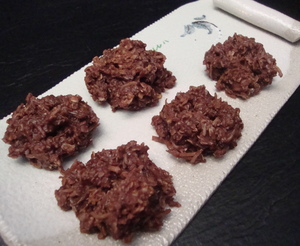 Mary Bilyeu, Contributor
This is one of those old-fashioned recipes that everyone in the Midwest seems to have some variation of. I had never seen them, though, until I moved to Michigan in 1978. Having grown up in New York City with a Canadian mother and a father whose own mother had emigrated from Ireland, my family didn't have this recipe.
But my ex-husband's did.
Stuart's Great-Aunt Ina created the cherished instructions for making Haystacks — a chocolatey coconut-oat no-bake cookie. She passed the recipe down, and now it is a favorite for a fourth generation. Jeremy could truly devour an entire batch of these when I make them.
Haystacks are ridiculously easy to make, as the most difficult step is merely waiting for them to cool and set. They're a great treat to give as holiday gifts, or to make when you're given last minute notice of bake sales. Butter, sugar, cocoa powder... two minutes of stirring... that's it!
Jeremy and Stuart are purists who never want to change anything; they want the same meals served at holidays, the same graham cracker crust at the base of their cheesecake, the same version of Haystacks that they've eaten all their lives.
I, however, like to tweak things a bit.
So I toasted the coconut rather than just stirring it in "as is." And I have to say that the boys loved them! This step offers just an extra bit of depth to the flavor.
Traditions are important at the holidays, and serving Haystacks has been a tradition in the Bilyeu family for decades.
Toasted Coconut Haystacks
1 cup coconut
3 cups quick-cook oats
2 cups sugar
1/2 cup butter
1/2 cup milk
4 tablespoons cocoa powder
1 teaspoon vanilla
Line a baking sheet with waxed paper.
Place coconut into a large skillet; toast it over low heat just until it starts to turn golden. Place into a large mixing bowl and add the oats.
In a medium saucepan, bring the sugar, butter, milk, cocoa powder and vanilla to a boil; boil for 2 minutes, stirring occasionally, then pour the chocolate mixture over the coconut and oats. Stir to combine well. (Add another 1-2 tablespoons of milk if the mixture seems a bit dry and isn't cohesive.)
Drop golf ball-sized dollops of the batter onto the prepared baking sheet, pressing lightly to help the cookies hold together as they set. Let cool on the counter or in the refrigerator until set.
Makes 2 dozen cookies, though you could make them smaller to make more.
By the way — don't forget these treats, too:

Mary Bilyeu has won or placed in more than 60 cooking contests and writes about her adventures in the kitchen. She was thrilled to have her post about Scottish Oatmeal Shortbread named as one of the daily "Best of the Blogs" by the prestigious Food News Journal.
Go visit Mary's blog — Food Floozie — on which she enthuses and effuses over all things food-related. Her newest feature is Frugal Floozie Friday, seeking fun and food for $5 or less ... really! Feel free to email her with questions or comments or suggestions: yentamary@gmail.com.
The phrase "You Should Only Be Happy" (written in Hebrew on the stone pictured in this post) comes from Deuteronomy 16:15 and is a wish for all her readers as they cook along with her ... may you always be happy here.