peggy lampman's dinnerfeed
recipe:

Tomato-Bulgur Sunshine Salad accompanies dishes from the grill, or stands alone as light summer supper

Posted on Mon, Jul 2, 2012 : 10:40 a.m.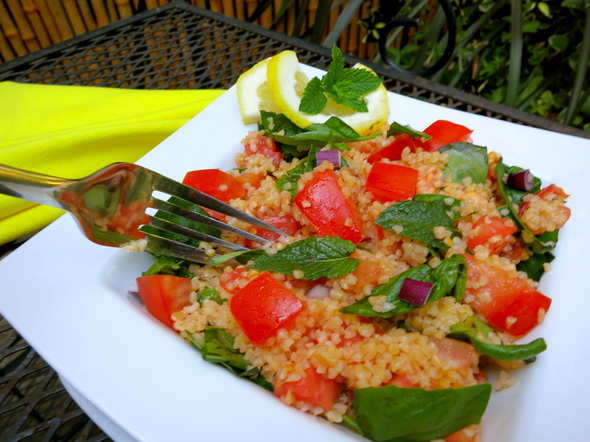 Peggy Lampman | Contributor

To receive my lastest dinnerFeed posts
by email, sign up here.

What could be more satisfying on a hot summer day than a dish of tomato and whole grain salad liberally seasoned with a citrusy dressing and copious amount of fresh herbs. Nothing, I tell 'ya, nothing. Certainly this recipe would be a welcome accompaniment to anything you put on the grill, but it stands alone with a crusty baguette and wedge of goat-brie as a lovely summer supper.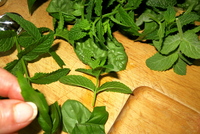 If you are a tabouli lover, bulgur is already a known component in your favorite salads. This recipe is a take on tabouli, with loads of tomatoes and herbs that are torn, rather than finely chopped, as in tabouli.
If time allows, let the salad sit out in the sun a few minutes before eating; it only gets better as the tomato runoff sinks into the grain making an addictive bite. By the way, they may not be on your vine yet, but grown in Michigan soil tomatoes are available in abundance at the Kerrytown Farmers Market.
Yield: 3-4 main course servings ; 4-6 side salad
Time: 25 minutes
Ingredients
1 cup dry bulgur
3 tablespoons freshly squeezed lemon juice
1/3 cup extra virgin olive oil
1 scant teaspoon finely minced garlic
Cayenne pepper
2 cups (2 medium-sized tomatoes), cut into 1/2-inch dice
1-2 tablespoons chopped red onion, optional
1 cup loosely packed basil, stems removed, torn and washed
1 cup loosely packed mint, stems removed, torn and washed
Directions
1. Cook (soak) bulgur according to package instructions.
2. Make a dressing by whisking together lemon juice, olive oil and garlic. Season to taste with kosher salt and cayenne.
3. Toss bulgur with dressing, tomatoes, onion, if using, basil and mint. Add additional kosher salt and cayenne to taste.