Posted on
Sun, Jun 9, 2013 : 5:56 a.m.
Top 5: Menus to try for Ann Arbor Restaurant Week
By Jessica Webster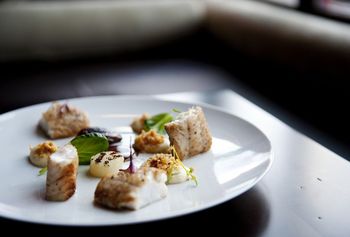 Daniel Brenner I AnnArbor.com
Today marks the launch of Ann Arbor's Restaurant Week, and with 56 participating restaurants offering fixed price menus through Friday night, the choices can seem overwhelming.
Never fear. After combing through the menus on AnnArborRestaurantWeek.com, I've put together a list of five restaurants with interesting, creative menus. Each of these restaurants is one where I have dined recently and enjoyed the experience, so I am confident that they'll deliver the goods this week.
1. Vellum, 209 S. Main
I was impressed last week when chef and owner Peter Roumanis served up a simple anchovy on brioche for Taste of Ann Arbor. To me, it shows his dedication to deep flavors and his refusal to talk down to his customer. His Restaurant Week menu reflects this point of view as well, with interesting combinations like a carrot-parsnip soup with gingerbread and a game terrine with sour cherry, apple and sweet pistachio.
2. Chela's Restaurant & Taqueria, 669 S. Maple Road
Located at the intersection of S. Maple and E. Liberty, Chela's is a little bit off the beaten path, but it's worth the short drive for flavorful food at a reasonable price point. Main Street Area Association director Maura Thomson tells me that the owners are excited to be participating and have added special items to the menu just for Restaurant Week. I'm anxious to try the green chili with pork and potatoes and the jicima and spicy corn salad. Worth noting: both lunch and dinner options have two-for-one pricing at Chela's.
3. Cafe Zola, 112 W. Washington St.
Cafe Zola is a late addition to the lineup, but its menu looks anything but hurried. The choices for appetizers include sauteed ground lamb with a roasted red pepper and yogurt sauce, and sauteed Spanish baby octopus with olive tapenade and lemon saffron aioli. This longtime local and visitor favorite should do well during this, its first foray into Restaurant Week.
4. Logan, 115 W. Washington Street
Logan regularly makes appearances in the Zagat guide's roundups of the best restaurants in Metro Detroit, but I'm often surprised to discover how many of my friends haven't ventured into this cheerfully colored restaurant. This year's menu has some new choices, including seared salmon in a delicate coconut milk sauce. While you're there, ask for a wine pairing from sommelier Kevin Hobart. The restaurant has a great by-the-glass list, and Kevin has a special knack for picking just the right one for each meal.
5. Pacific Rim, 114 W. Liberty Street
The sheer number of mouth-watering choices is what landed this fusion restaurant on my list. From the crab cake with cilantro-lime sauce to the dreamy coconut-green curry soup to the staff favorite Korean marinated ribeye, there's much to love on this menu.
Ann Arbor Restaurant Week is sponsored by the Main Street Area Association and runs Sunday through Friday this week, with 56 area restaurants offering special multi-course lunch and/or dinner menus. Prices run $15 per person for lunch and $28 per person for dinner, with many locations offering two-for-one pricing. Reservations can be made directly with each restaurant. More information can be found at AnnArborRestaurantWeek.com.
Jessica Webster leads the Food & Grocery section for AnnArbor.com, a part of the MLive Media Group. Reach her at JessicaWebster@annarbor.com. You also can follow her on Twitter or subscribe to AnnArbor.com's email newsletters.