Posted on
Thu, May 16, 2013 : 7:29 a.m.
Indulge your inner baking fan with this Tres Leches Cake
By Jessica Webster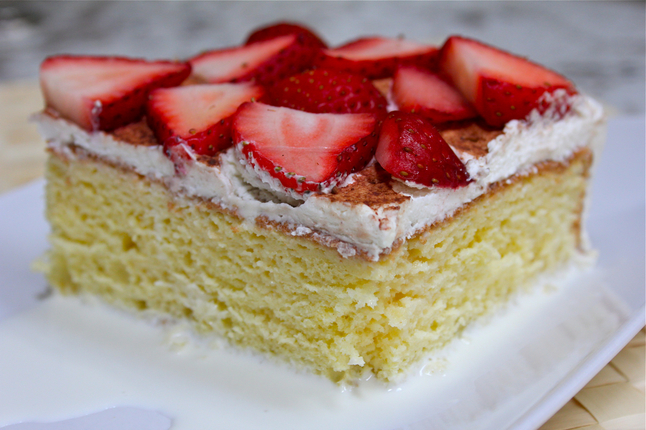 Jessica Webster | AnnArbor.com
Did you see the picture of
the cake resignation letter
? A British immigration officer resigned from his job by baking his office mates a
cake
and writing his farewell note in icing. He, like millions in Britain, had gone mad for baking, and he wanted to do it full time.
According to a story on NPR's food blog, The Salt, cake baking has become all the rage in Great Britain of late. There are cake clubs, not unlike book clubs, springing up all over. Sales of flour were at an all-time high in 2012, and cake cookbooks are flying off the shelves.
Reading the story on the NPR site had me inspired. Despite all my protests that I don't have the patience or the knack to diligently follow baking instructions to the letter, I've been doing a whole lot of baking in my kitchen. After reading about the British baking craze, I decided it was time to master the sponge cake.
You're probably scoffing right now. Sponge cakes? You made those in Home Ec class in sixth grade, right? Am I really admitting that they intimidated me? Let's just say that I, until repeatedly viewing instructional videos on YouTube recently, had a little hang-up about folding in egg whites. It's all good now.
I didn't want just any sponge cake, however. I wanted a sponge cake soaked in delicious sweet milks, frosted with whipped cream and topped with fruit. I wanted a tres leches cake.
Though there is some debate about where they originated, tres leches cakes are popular in Central America and have, along with flan, become a staple dessert at many Latin American restaurants in the United States.
This recipe comes from the Pioneer Woman food blog, with a few slight adaptations. If you want to be really decadent, add a 1/4 cup of rum to the condensed milk-evaporated milk mixture. Just remember that you're not cooking the rum, so the alcohol will remain in the cake.
Tres Leches Cake - recipe adapted from ThePioneerWoman.com
Ingredients
1 cup cake or all-purpose flour
1-1/2 teaspoon baking powder
1/4 teaspoon salt
5 whole eggs
1 cup sugar, divided
1 teaspoon vanilla
1/3 cup milk
1 can evaporated milk
1 can sweetened, condensed milk
1/4 cup heavy cream
optional: 1/4 cup rum

Icing:
1 pint heavy cream, for whipping
3 tablespoons sugar
2 cups strawberries, cored and cut lengthwise into 1/4 -inch slices
Cocoa powder to sift over the cake

Preparation Instructions
Preheat oven to 350 degrees. Liberally grease a 9x13-inch pan.
Combine flour, baking powder, and salt in a large bowl. Separate eggs.
Beat egg yolks with 3/4 cup sugar on high speed until yolks are pale yellow. Stir in milk and vanilla. Pour egg yolk mixture over the flour mixture and stir very gently until combined.
Beat egg whites on high speed until soft peaks form. With the mixer on, pour in remaining 1/4 cup sugar and beat until egg whites are stiff but not dry.
Fold egg white mixture into the batter very gently until just combined. Pour into prepared pan and spread to even out the surface.
Bake for 35 to 45 minutes or until a toothpick comes out clean. Turn cake out onto a rimmed platter and allow to completely cool.
Combine condensed milk, evaporated milk, and heavy cream in a small pitcher. (This is where you add the rum if you are so inclined.)
When cake is cool, pierce the surface with a fork at half-inch intervals. Slowly drizzle all but about 1 cup of the milk mixture — try to get as much around the edges of the cake as you can. (My friend Kate says the cup of leftover milk mixture — minus the rum — makes for an excellent base for French toast.)
Allow the cake to absorb the milk mixture for 30 minutes. To ice the cake, whip 1 pint heavy cream with 3 tablespoons of sugar until thick and spreadable.
Spread over the surface of the cake. Dust cake with cocoa powder and decorate with sliced strawberries. Try not to eat the whole thing in one sitting.
Jessica Webster leads the Food & Grocery section for AnnArbor.com, a part of the MLive Media Group. Reach her at JessicaWebster@annarbor.com. You also can follow her on Twitter or subscribe to AnnArbor.com's email newsletters.