WEEK 45
A CAKE A WEEK:

Triple Chocolate Orange Passion Cake: 'Round but not 'round for long

Posted on Tue, Nov 23, 2010 : 8:30 a.m.
Erin Mann is baking a new cake every week for a year from the "All Cakes Considered" cookbook and shares her adventures here on AnnArbor.com. Read past columns here.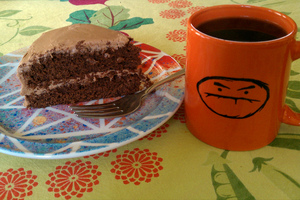 Photo by Rex Roof

Remember the Terry's Chocolate Orange? They are known as a Christmas stocking staples, but I was in my teens before sampling one. A friend, shocked by my lack of knowledge about this popular sweet, offered to share one with me. Charmed by the novelty of this candy enveloped in orange foil, I observed intently as he unwrapped it and set it on the table. With one quick "Whack!" of his fist, the chocolate orb split into a dozen or so segments. An additional surprise occurred when I popped the wedge into my mouth and tasted the combined flavors of chocolate and orange for the first time.


"All Cakes Considered" borrowed the recipe PasTriple Chocolate Orange Passion Cake from Diana Dalsass, who wrote "The New Good Cake Book: Over 125 Recipes That Can Be Prepared in 30 Minutes or Less." Diana's book boasts quick, easy, delicious cakes and recipes that can be whipped up in less time because of alternate mixing techniques; no creaming of butter or sugar to be found here.

I mixed this cake as I would a boxed mix. All of the dry ingredients, including the flour, baking powder, salt and cocoa are combined with the sugar in one bowl. With the mixer going, I added the "wet" ingredients one by one: milk, oil, eggs, vanilla and orange zest. Next, I mixed the fresh orange juice, water and melted chocolate together and added the liquid mixture to the batter. The mixture was dry and lumpy, but all the liquid smoothed it out and made a runny batter.

The cakes are baked at 400 degrees Fahrenheit, higher than most of the other layer cakes in "All Cakes Considered" which have been baked at 350 degrees. The baking time in also shortened to 15 to 20 minutes (the standard time has been around 30 minutes). The recipe suggests watching the cakes closely as they near the end of their baking time because they over-bake easily. I removed my cakes from the oven after 18 minutes.

I made a two-layer cake; the cakes don't rise much, so there's not enough thickness to cut them in half to make more layers. The frosting, with a bit of butter and heavy whipping cream, is smooth, creamy and is not overwhelming chocolaty, allowing the orange flavor to come out. I thought the frosting was fantastic and would use it again on another cake or cupcakes. The cake, due to the way it was mixed and cooked faster at a higher temperature, was crumbly and a little on the dry side. However, I thought the overall flavor of the cake and frosting was spot-on; a nice balance of chocolate and orange, reminiscent of a beloved holiday treat.

If you're a fan of Terry's Chocolate Orange, give this cake a try. You can find the recipe here.