Posted on
Wed, Dec 14, 2011 : 8 a.m.
Triple mustard sauce can turn plain cuts of meat into glamorous dishes
By Mary Bilyeu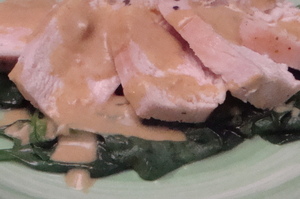 Mary Bilyeu, Contributor
If you want a sauce with lots of vivid flavor, this is the one! It can dress up the plainest poached chicken, a simple pork chop cooked in a skillet, or a slice of roast beef. If you buy a rotisserie chicken, just to make dinner easy when you're short on time, this sauce will make it more glamorous and leave you feeling as though you contributed to the cause instead of shirking.
I happen to love mustard, so tripling the zest is a fabulous way to liven up a meal. And isn't beer the perfect mate to mustard? So I added some to the sauce... why not?
In the midst of all the holiday chaos, don't we all need to make things easier? But just because you might be serving a simple dinner doesn't mean it has to be boring.
I'll be keeping Office Hours at AnnArbor.com tomorrow — Thursday, Dec. 15 — from 4-5 p.m. Come say, "Hi!" Give me Frugal Floozie Friday recommendations, tell me what you're serving for whichever upcoming holidays you're celebrating — just stop by, have a cup of coffee, hang out in the Community Space....
Triple Mustard Sauce
1 tablespoon Dijon mustard
1 tablespoon brown mustard
1 tablespoon yellow mustard
1/4 cup beer
Bring all ingredients to a boil in a small saucepan; cook until thickened a bit.
Makes not quite a quarter cup of sauce.
Last Thursday, I was the guest speaker at the DAMES Dinner hosted by Temple Beth Emeth's Sisterhood. If you'd like to see the fabulous food and get contact information for the great chefs who prepared the meal, check out Food Floozie today!

Mary Bilyeu has won or placed in more than 60 cooking contests and writes about her adventures in the kitchen. She was thrilled to have her post about Scottish Oatmeal Shortbread named as one of the daily "Best of the Blogs" by the prestigious Food News Journal.
Go visit Mary's blog — Food Floozie — on which she enthuses and effuses over all things food-related. Her newest feature is Frugal Floozie Friday, seeking fun and food for $5 or less ... really! Feel free to email her with questions or comments or suggestions: yentamary@gmail.com.
The phrase "You Should Only Be Happy" (written in Hebrew on the stone pictured in this post) comes from Deuteronomy 16:15 and is a wish for all her readers as they cook along with her ... may you always be happy here.