YOU SHOULD ONLY BE HAPPY ....
recipe:

Tuna, White Bean and Red Onion Salad comes together quickly and is perfect for a picnic

Posted on Wed, Jul 20, 2011 : 8 a.m.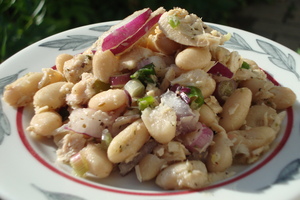 Mary Bilyeu, Contributor
This simple, light, nutritious salad is ridiculously easy to put together but still immensely popular and flavorful. You can grill your own tuna or soak your own beans, and that would undoubtedly make for a lovely dish.
But you've just come back from sweltering at the Art Fair (though you know you loved every moment of it!), and you want something quick to throw together... open a couple of cans, chop and stir just a tad, and enjoy your fabulous salad.
I use tuna packed in water rather than in oil, because there's already oil in the dressing, and no one really needs the extra fat; while Saveur actually claims that this makes the salad taste "insipid," I would argue that this is not the case at all! The lighter tuna lets all of the ingredients' flavors shine through; and if you have good ingredients and a vibrant dressing, some extra grease simply isn't necessary.
Now, of course, my friends know that I'm quite the aficionada of Italian, which is so beautiful that it can even make a bean salad sound elegant! Here is this dish's name in its native tongue: Insalata del Fagiolo e del Tonno [in-sah-LAH-tah del fah-JOHL-oh eh del TOH-noh], which is infinitely preferable to "Tuna, White Bean and Red Onion Salad"!
Already, with this simple translation, we've elevated our meal to something sophisticated and luscious, haven't we?
This is a great dish for any summer day, and especially for picnics because it travels very well without any concerns about spoilage or wilting. Enjoy!
Tuna, White Bean and Red Onion Salad
1 6-ounce can solid white tuna in water, drained
1 15-ounce can cannellini, drained, rinsed
6 purple scallions, chopped
juice of 1 lemon
1/8 cup extra-virgin olive oil
1/2 teaspoon kosher salt
1/4 teaspoon freshly ground black pepper
1/8 teaspoon lemon pepper
Combine tuna, cannellini and scallions in a medium mixing bowl. Whisk together lemon juice, oil, salt and peppers; pour over salad, and stir to coat. Cover and let rest for 1 hour or more, for flavors to blend.
Serves 2 as a light lunch with good bread and perhaps a green salad.

has won or placed in more than 60 cooking contests and writes about her adventures in the kitchen. She was thrilled to have her post about Scottish Oatmeal Shortbread named as one of the daily "Best of the Blogs" by the prestigious Food News Journal.
Go visit Mary's blog — Food Floozie — on which she enthuses and effuses over all things food-related. Her newest feature is Frugal Floozie Friday, seeking fun and food for $5 or less ... really! Feel free to email her with questions or comments or suggestions: yentamary@gmail.com.
The phrase "You Should Only Be Happy" (written in Hebrew on the stone pictured in this post) comes from Deuteronomy 16:15 and is a wish for all her readers as they cook along with her ... may you always be happy here.