Posted on
Wed, Apr 28, 2010 : 8 p.m.
Turn dandelion whines into dandelion wines
By Stefan Szumko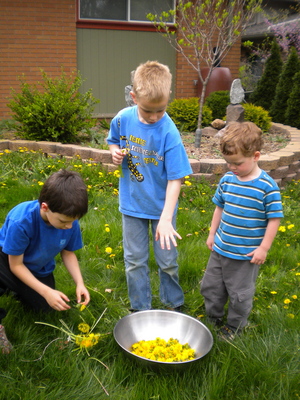 Wine from the "Lion's Tooth," or dandelion wine, is a welcome treat on a cold winter's night.
The word "
dandelion
" is an English corruption of the French name of this plant, "dent de lion," which means "lion's tooth." This plant has been used for thousands of years as a reliable food source. Roman soldiers would bring this plant to territories they conquered. Colonists brought this plant to North America. Truly, this is a survival food.
But for those of us who are skeptical of eating the leaves of a plant that anybody can grow, perhaps minds might be changed after a glass or two of dandelion wine. Sweet tasting and strong as wines go, dandelion wine is inexpensive and easy to make.
In 1962, Euell Gibbons published the book, "Stalking the Wild Asparagus." Besides dandelion wine, this book offers recipes for a large number of plants found along roadsides, backyards and other places where plants are permitted to grow wild. Researched during the Great Depression, this book is a valuable resource in difficult economic times when fresh fruits and vegetables are tough to come by.
Last week, I started fourth ever batch of dandelion wine. Although I've deviated slightly each year, I generally follow the recipe offered by Gibbons. But I'll include my observations along with his recipe.

Ingredients and materials: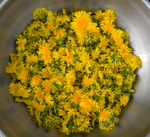 Day 1: (two hours)


1 gallon of dandelion flowers picked on a dry day.


1 gallon of boiling water.


A 2-gallon container that can hold the flowers and water (Gibbons suggests a crock. I use a large mixing bowl with a glass of water in the middle to hold up the cloth).


A cloth to cover the container.


Day 4: (two hours)



A 2-gallon soup pot.


3 oranges.


1 lemon.


1 small ginger root.


½ cake of yeast (or a half package of dry yeast).


A jelly cloth (I use a clean, old dish towel).


A fermentation container.


A cloth to cover the container.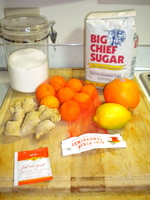 Day 10: (one hour)


Coffee filters (or clean, old dish towels).


Colander.


Funnel.


Bottles (I like the flip-top beer bottles).


Cotton balls.


Day 31: (5 minutes)


Euell Gibbons Dandelion Wine Recipe:
1. Gather 1 gallon of dandelion flowers on a dry day.
"Gather your minions, especially the ones built low to the ground due to lack of age. You'll need them. Although I'm over-estimating, it will take an hour to collect a gallon of dandelion heads.
Collect the flower heads only. The stems will add a bitter flavor to the brew. Although dandelion leaves are edible and roots can be used as tea, this is another article altogether.
Caution: It might be best to collect dandelion flowers some distance away from yards that are in close proximity to vehicle exhaust or have been treated with herbicide, pesticide, or fertilizer. Your liver will be challenged enough when processing this potent brew since it does get rather strong."
2. Put these in a 2-gallon crock and pour 1 gallon of boiling water over them.
"I use a large stainless-steel mixing bowl instead of a crock. I don't even know where to get a 2-gallon crock. I can't say for certain that I even know what a crock looks like. Apparently, crocks were common before 1962. I suppose that home-brew brought about the slang term, "getting crocked" - meaning getting drunk.
Since I like to share my efforts with friends and family, I'll boil two gallons of water and try to collect additional flowers. No need to change the rest of the recipe if you double the liquid. Just be sure to get those flowers."

3. Cover the jar and allow the flowers to steep for 3 days.
"Don't go more than a day or two after the 3-day period. The flowers will rot, and you'll have to start over.
I cover my mixing bowl with two old but clean dishtowels. To keep the dishtowels out of the liquid, I use a glass filled with water placed in the middle of the mixing bowl to act as a support for the towels."
4. Strain through a jelly cloth so you can squeeze all the liquid from the flowers.
"I'm not exactly sure what a jelly cloth is, nor have I ever seen one. An Internet search reveals numerous "jelly cloth diapers." Unused ones would work, but will be expensive. I have seen cheesecloth, which has widely spaced, waxed fibers. I assume a jelly cloth is similar, but has fibers spaced closer than cheesecloth but wider than a dishcloth.
Whatever fabric you use, it will get permanently stained yellow. I use my old, but clean dishtowels."
5. Put the liquid in a kettle, add 1 small ginger root, the thinly pared peels and the juice of 3 oranges and 1 lemon.
"Seeing as I don't have a kettle that will hold over a gallon of liquid, I use my soup pot.

How big is a small ginger root? Maybe the size of your thumb? This year, I'm using more ginger just to see how that affects the flavor. I like to slice the ginger to create more surface area for flavor release.
With the oranges and lemons, I'm assuming that Gibbons wants to keep the pulp and the white connective tissue out of the brew. If it gets in, it will be filtered out later. This year, I used several tangerines. Since they have thin peels, I didn't bother with the paring. I also added a splash of lemon juice concentrate and a bit of leftover orange juice. Every year, the final concoction changes slightly. It appears that the addition of the extra orange juice has given the wine a darker color. Usually the wine is a pale yellow."
6. Stir in 3 pounds of sugar and boil gently for 20 minutes.
"That's a lot of sugar. Your wine will be really sweet. This year, I think I over added sugar. I had to use up some old sugar that got wet, so I guessed at the quantity. Maybe some year, I'll use less sugar. One year, I used half sugar and half honey. The wine was very dry and best served cold.
You can probably use high-end sugar. But in keeping in the spirit of Euell Gibbons' frugality, I use the cheap sugar - Michigan grown sugar beet sugar. But it's all good.
I use the boiling time to wash the mixing bowl for use in the next step and clean up the kitchen."
7. Return the liquid to the crock and allow it to cool until barely lukewarm.
"Using a large colander and the previously used old, but clean dishtowel, I strain out the ginger and citrus solids. Once the soup pot is empty, I'll put the colander/towel/solids into it, and let the liquid continue to drain. Once the solids are cool, I'll give them a good squeeze while wrapped in the towel.
It takes about an hour to cool. Don't wait too long before moving onto the next step, so as to avoid bacterial growth."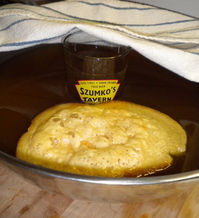 8. Spread ½ cake of yeast on a piece of toasted rye bread and float it on top.
"I've been using a half-pack of fast rise yeast (no brand loyalty yet) instead of a yeast cake.
I suppose any other bread would work. Toasting it probably keeps it more solid. Rye bread is more porous than others. Caraway seeds are optional. But I just discovered that Ed's Bread, made in Saline, has tasty caraway seed-free rye bread that others in my family will eat. So I'll probably stick with that in future years."
9. Cover the crock with a cloth and keep in a warm room for 6 days.
"This time, use two old, but clean dishtowels, to cover the liquid or else flies and ants will get into it."

10. Then strain off the wine into a gallon jug, corking it loosely with a wad of cotton.
"First I'll filter the wine through an old, but clean dishtowel into another pot or mixing bowl. Then I'll filter it again through a coffee filter. The filter will clog quickly, so I use several. A measuring cup with a handle helps to keep the hands clean, reduces spills, and allows me to avoid the yeasty sediment on the bottom of the bowl.
I use a large "growler" - a glass ½ gallon bottle with a flip-top lid and several smaller beer bottles with flip-tops. The benefit of using smaller bottles is that once they are given as gifts, a new supply must be obtained. Many of the home decorating stores (Bed/Bath/Beyond, Pier One, Ikea) usually have empty bottles with flip-top lids. But if you don't mind draining full bottles of beverage with flip-top lids, the Main Street Party Store has several varieties of beer to sample, and I believe Trader Joe's used to stock lemonade using these bottles.
A large pitcher or jar would work, using a cloth secured by a rubber band instead of cotton.
A loosely packed cotton ball or two work well. Just be sure they are not jammed in too tightly or too far down into the bottle."

11. Keep in a dark place for 3 weeks, then carefully decant into a bottle and cap or cork tightly.
"Since the wine has already been bottled, I'll just remove the cotton and seal the lid. But transferring the wine into a different bottle would remove the yeasty sediment from the bottom of the bottles. Don't drink the sediment. That stuff is nasty."
12. Don't touch it until Christmas or later.
"Holiday parties at the beginning of December are a good time to sample the wine. A cheerful pop of the cork can be heard with occasional carbonation release. It usually won't fizz over, but may have a slight bubbly effervescence. Please be sure to enjoy your dandelion wine responsibly, since the alcohol content can get pretty strong."
Stefan Szumko can be reached at slugwhisperer@gmail.com.