Posted on
Mon, Nov 26, 2012 : 9:48 a.m.
Garfagnana Farro Soup is a hearty, warming dish
By Peggy Lampman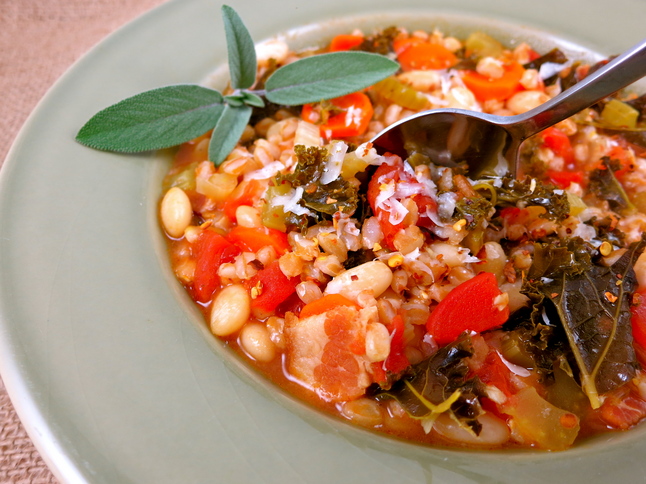 Peggy Lampman | Contributor

The new Holiday Cookbook answers all of your cooking needs. Strapped for time? Check out the well-tested Super-Simple section.
A couple of weeks ago I described, in a tiny chestnut shell, my recent trip to visit a friend in Lucca, Italy. I spoke of our hike north of Lucca in the Garfagnana, where the landscape was dotted with chestnut hunters, and
made a pasta dish utilizing fresh Michigan chestnuts
when I arrived home. While at the Garfagnana park service station, I also noticed bags of
farro
— the locally cultivated spelt — alongside bags of chestnut purées and pastas.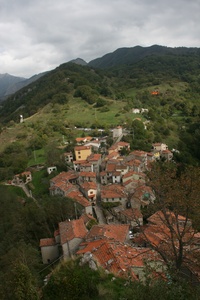 The cooking in this mountain region is no-nonsense sturdy fare using indigenous ingredients, and I savored a soup made of farro, which I tried to recreate in this recipe. Soups such as this, which are often accompanied by local salami, dark bread and vegetables preserved in oil, find a place to ward off the chill at many a long, wooden hilltop table in this lovely Tuscan area.
I've written about farro a great deal and am happy it's readily found in Ann Arbor stores. In Tuscany, this whole grain is so ubiquitous, I even purchased a bag at a gas station! Kale and sage are still thriving in winter gardens, ingredients quite lovely in this hearty winter soup.
Past farro posts of mine have included Lemony Farro Risotto with Currants, Pine Nuts and Spinach, Corn and Tomato Farrosotto, Italian Farro with Ground Beef, Fennel and Peas, and Broccoli and Farro Salad with Feta.
Yield: 6 servings
Bean Soak Time: 24 hours to soak beans
Active Time: 30 minutes
Simmer Time: At least an hour
Ingredients
1 cup dry white beans
2-3 pieces thick cut bacon or pancetta, cut into 1/3-inch cubes (about 1 cup)
1 onion, chopped
2 celery stalks, trimmed and chopped
2 carrots, peeled and chopped
1 tablespoon minced garlic
1 cup uncooked farro
1 (28 ounce) can diced tomatoes with juice (imported Italian preferred)
6 cups stock or water, plus more as necessary
6 cups stemmed and torn kale, washed
2 tablespoons chopped fresh sage
Red pepper flakes
Freshly grated hard sheep's milk cheese, such as Pecorino
Directions
1. Soak beans in water to cover by 2-inches for 24 hours.
2. Place bacon or pancetta in a large, heavy-bottomed pan or Dutch oven over medium heat; fry until much of the fat is rendered, about six minutes. Stir in onion, celery and carrots. Cook until vegetables are softened, 5 to 10 minutes, then stir in garlic, farro, soaked beans, tomatoes and stock.
3. Bring to a boil, then adjust heat to medium. Cook thirty minutes and add kale. Continue cooking until farro and beans are tender, at least an additional 30 minutes, adding stock or water as necessary if mixture becomes too thick. Stir in sage, then cook another 5 minutes. Add kosher salt, if necessary, and red pepper flakes to taste, and serve garnished with grated cheese.
Peggy Lampman is a real-time food writer and photographer posting daily feeds on her website and in the Food & Grocery section of Annarbor.com. You may also e-mail her at peggy@dinnerfeed.com.