Food & Grocery:

U-M residential dining team wins silver medal in national culinary contest

Posted on Mon, Jul 16, 2012 : 3:14 p.m.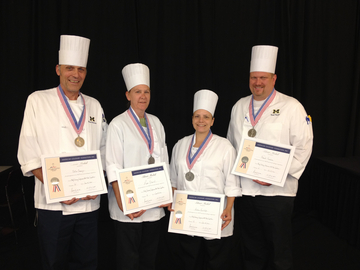 Photo courtesy of University of Michigan University Housing

What would you make with a whole fresh cod, red peppers, Roma tomatoes, pork loin and craisins? That was the challenge for a group of four chefs from the University of Michigan's residential dining services who recently competed in a mystery-basket challenge at the 18th annual Tastes of the World Chef Culinary Conference in Amherst, Mass.

Each of the 14 participating culinary teams at the conference was tasked with creating a three-course menu and a buffet platter from the ingredients in their baskets. They were given an hour to submit a menu plan, two hours to prepare the 3-course meal, one hour to prepare the buffet dish, and 15 minutes to plate each of them.

The U-M team—which consisted of Executive Chef Frank Turchan, Chef Lead Nelson "Buzz" Cummings, Chef Lisa Demond, and Chef Assistant Andrea Randolph—came up with a silver-award-winning menu that included Roasted Red Pepper Chicken Soup, Pan Roasted Cod with Smoked Tomato Sauce, Roasted Pork Medallion with Dried Fruit Chutney and Apple Strawberry Tart.

The conference is an annual event hosted by the University of Massachusetts. This is the first time that U-M has sent a complete team to the conference. Last year, chefs Frank Turchan and Buzz Cummings teamed up with two chefs from SUNY Potsdam to earn a bronze medal.