Posted on
Mon, Jun 6, 2011 : 12:45 p.m.
Former U-M students help Honduran farming community make coffee more 'local'
By Carly Parker
Photo courtesy of Union Microfinanza
After several service trips to the mountainous villages of La Union, Honduras, former University of Michigan student Andrew Boyd was inspired. He wanted to do more, but wasn't sure how he could make an impact. His passion led to a microfinance organization that focused on something the people of La Union already knew — coffee. And now thanks to his efforts, the Honduran farming community gets a rebirth, and Ann Arbor is drinking some of the most "local" coffee possible.
With the help of U-M Ph.D. candidate and research mastermind Derek Stafford, Boyd and fellow students Patrick and Alex Hughes, Dan Schwartz and Mike DeWit were able to implement a research project that turned into a life-changing organization.
The region of La Union had the ability to grow phenomenal coffee. Unfortunately, due to lack of training, supplies and the cycle of poverty, farmers there were unable to produce enough crops or sell their product at a fair price. Money coming in was simply spent, and profits that should have benefited the community, were going with their crops — elsewhere in the world.
Using information from their research and money from an outside grant, the team was able to develop a non-traditional microloan program, tailored to La Union's coffee growers (including sustenance crops like corn and beans).
"Most microloans are based on cash," said Patrick Hughes. "But in Honduras, the people have a saying 'dinero ganado, dinero gastado,' - money earned, is money spent." Cash-based loans, simply wouldn't work.
The team found a better way to give back to the community — tools, fertilizer and education were the key, and after years of preparation, a 501c3 was established, and Union Microfinanza (UMF) became a reality.
How it works
Union Microfinanza grants farmers microloans in the form of supplies. The organization is able to buy items (mostly fertilizer) in bulk, and carry the savings down to the farmers. The farmers are then able to repay their loans slowly during growing season, completing them after harvest. The money repaid is then reinvested into the program and put right back into the community.
Twenty-four out of 32 aldeas (villages) in La Union participated in the first loan cycle in 2010. A Honduran board of directors was established in each area to determine who would receive loans and oversee repayment. Some 125 farmers received more than $12,000 worth of tools and fertilizer during the first year of microloans alone.
photo courtesy of Union Microfinanza
Education
"Most of the farming practices are passed from father to son over generations," said Boyd. "Sadly, they aren't always the most efficient."
In addition to tools and fertilizer, the program makes learning a priority. With the help of several major Honduran partners, the farmers participating in the microloan program are given workshops in farming, business and finance.
"The program is very empowering to the community," said Boyd. "Farmers who attend workshops often go back to their villages and train others. It's our vision to someday turn the program over to them to run in the future."
The extra training and supplies are helping La Union farmers to grow higher-quality crops — and the fruit of their labor is staring to show up in the United States.
Using a system referred to as Micro-lot, UMF connects individual farmers with coffee roasters in the U.S. who are then able to buy top-notch coffee from a specific "lot" or farm.
Recently, coffee beans from the program in La Union were featured in a U.S. Barista Competition in Chicago, drawing notice in the coffee community.
"It's compelling for me to show the farmer his coffee used in a huge competition, and people wanting to buy more of it!" said Hughes. "It's even greater that we are able to get a higher rate from roasters for his beans, and give him the profit."
Even though the program is starting to make waves, it hasn't always been easy. The UMF team lives and works in Honduras alongside the farmers, and in order to give everything to the success of Union Microfinanza, members have taken a vow of poverty.
"All of the money that doesn't go into packaging, shipping or roasting goes back to supporting our staff and providing more training for the farmers — everything goes into the program," said Boyd.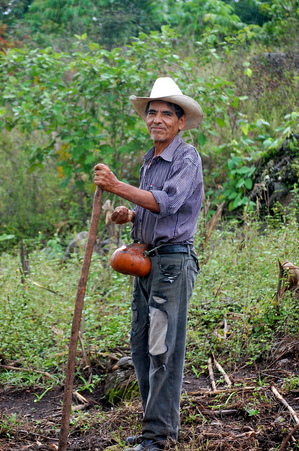 photo courtesy of Union Microfinanza
Now with a year under their belt, and more than a 97 percent loan repayment rate, the team members are focusing on expanding to all 32 villages in La Union, and finding ways to get microloan coffees on shelves in cities throughout the U.S. — including Ann Arbor.
"This is about as local as coffee can ever be in Ann Arbor," said Hughes.
With microloan beans springing up around town, your daily caffeine fix can be accomplished while directly supporting farmers in Honduras. Microloan coffee can be found in Eve Aronoff's Frita Batido coffee blend roasted by Zingerman's for her new Cuban-inspired restaurant.
It's also available by the pound at The Common Cup Coffeehouse and the People's Food Co-op in Kerrytown, with more locations coming soon. "We are growing rapidly with more than 150 farmers this year and a vision to greatly expand our poverty alleviation efforts in the area," said Boyd. "I'm excited to see where it goes."
To learn more about UMF or to make a donation for microloans, go to unionmicrofinanza.org. To directly purchase microloan coffee, go to microloancoffee.com.
The group also hosts coffee education and service trips to Honduras where individuals and groups can donate time to the La Union community building safer stoves and latrines. Contact Andrew Boyd for more information. Andrew Boyd: andrew.boyd@unionmicrofinanza.com or 231-288-8355.