Peggy Lampman's Wednesday dinnerFeed
Recipe:

Up North Scrambled Eggs with Fresh Chanterelle Mushrooms showcases delicate flavor of Michigan treats

Posted on Wed, Aug 31, 2011 : 4:22 a.m.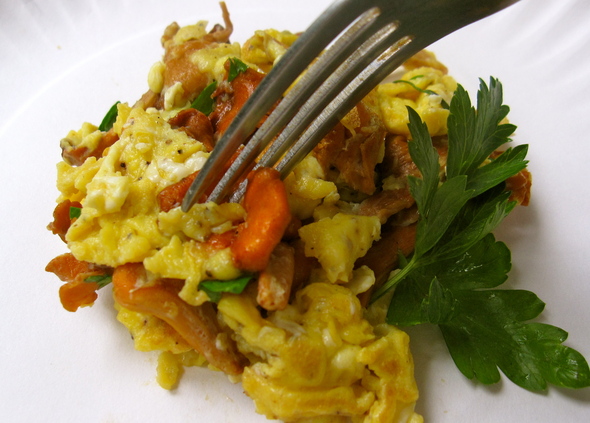 Peggy Lampman | Contributor

Peggy Lampman's Wednesday dinnerFeed: Up North Vacation: Day 3
In the last couple of blogs I mentioned that I was on vacation in northern Michigan with my family. Therefore, the food I'm making relies on simple ingredients, mostly found at the local farmers market.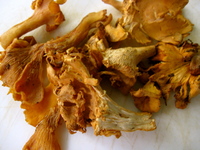 Peggy Lampman | Contributor
I hit pay dirt yesterday; a vendor was selling bags of fresh chanterelle mushrooms he farms in $5 and $10 bags.
I'd love to used them as part of an extravagant sauce or in a soup, but I only have one fry pan (that's seen better days), a carton of eggs and chives I brought up from my garden at home.
My main objective was to cook the mushrooms until their flavor was just released and serve. You will lose much of the prized flavor if the mushrooms are overcooked. Frankly, lightly scrambled eggs were a perfect canvas for showcasing the delicate, apricotish flavor of these glorious treats. (Before I left for vacation, I noticed Sparrow Markets were carrying fresh chanterelles in their small produce case, and that a vendor was selling them at the Kerrytown Farmers Market, as well.)
Yield: 2 servings
Time: 10 minutes
Ingredients
1 tablespoon unsalted butter
2 teaspoons minced sweet onion or shallot
1 cup loosely packed fresh chanterelle mushrooms, woody stems trimmed and wiped clean with a paper towel, then gently torn or sliced
5 large eggs, whisked
1 tablespoon fresh chopped parsley or chives
Directions
1. In a large saute pan, melt butter over medium-low heat. Saute onion or shallot with a pinch of kosher salt two minutes, stirring, then stir in chanterelles. Cook one minute, stirring, then raise heat to medium and sitr in eggs.
2. Scramble until just cooked and stir in parsley or chives. Season to taste with kosher salt and freshly ground pepper and serve.
Looking for a specific recipe? Click here for dinnerFeed's recipe search engine; type the recipe or ingredient into the search box. I am a real-time food writer and photographer posting daily feeds on my website and in the Food & Drink section of Annarbor.com. You may also e-mail me at peggy@dinnerfeed.com.