peggy lampman's Monday dinnerfeed
recipe:

Up North Souvenir: Smoked Salmon Spread evokes last days of summer

Posted on Mon, Sep 12, 2011 : 4:53 a.m.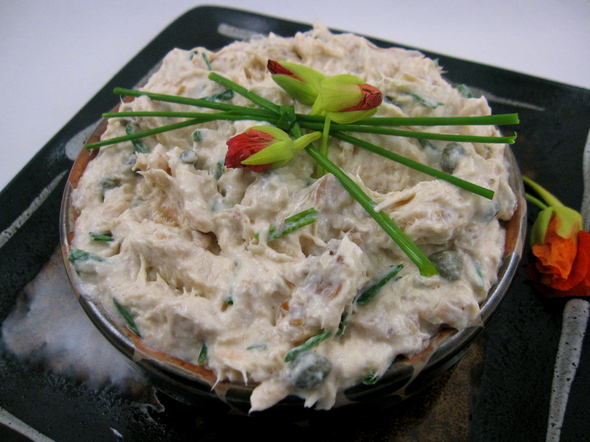 Peggy Lampman | Contributor

Peggy Lampman's Monday dinnerFeed
Many folks enjoy purchasing a souvenir from a vacation. Perhaps some coral earrings from a beach trip, or an "I Wrestled An Alligator In The Bayou" T-shirt to evoke a happy memory.
Me? I like to bring home food. Traveling in Tuscany, for example, I returned to Michigan with dried porcini mushrooms, which were sniffed out by dogs and confiscated at customs.
This year's vacation did not end with barking dogs and stern reprimands, but with a big piece of smoked salmon from our August trip to Northern Michigan. It was the smells of fragrant smoke that led my husband and I to a small fish store in the shadow of the Macinac bridge; hunks of Great Lakes smoked whitefish and salmon sat stacked and glistening in an upright cooler. I transfered the fish to my own cooler, bringing it back to Ann Arbor.
Smoked fish keeps a good long time, refrigerated, and turning it into a favorite smoked fish spread evoked the heat and sunshine of those giddy last days of summer.(I notice Monahan's Seafood in Kerrytown always stocks a wide variety of smoke fish, so you could make this yummy appie year round.) I've made many smoked fish spread recipes in my day, and this one is best of breed. Serve with a sliced baguette and coins of cucumber.
Yield: 6 appetizer portions
Time: 20 minutes
Ingredients
1/4 cup cream cheese, room temperature
1/4 cup sour cream
1/4 cup mayo
1-2 tablespoons horseradish
2 tablespoons capers
2 tablespoons chopped red onion
3 tablespoons snipped chives
2 cups flaked smoked fish, such as salmon, trout or whitefish
Pinch or more cayenne
Directions
1. Combine cream cheese, sour cream, mayonnaise, capers, onion and chives.
2. Cut fish into bite size pieces and stir into sour cream mixture. Season to taste with cayenne and kosher salt, if desired.
Looking for a specific recipe? Click here for dinnerFeed's recipe search engine; type the recipe or ingredient into the search box. I am a real-time food writer and photographer posting daily feeds on my website and in the Food & Drink section of Annarbor.com. You may also e-mail me at peggy@dinnerfeed.com.