Posted on
Tue, Aug 6, 2013 : 8 a.m.
Upside-down berry cake inspired by flea market discovery
By Mary Bilyeu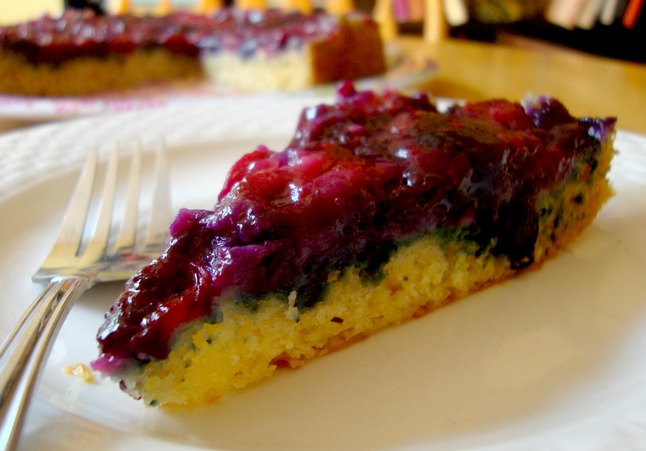 Mary Bilyeu | Contributor
Craig and I went up to Midland for the
Michigan Antique & Collectible Festivals
— a huge outdoor market with vendors selling everything from coins to old watering cans, plates to dolls, Depression glass to record albums. Almost anything you can imagine — even a tax ledger from Romulus, dated 1895 — was there, waiting to be found and perused and rescued. We went home with a few treasures, from a kitschy "kaffee klatch" tray for my wall to old photographs.
There was an eclectic shopping list, with items such as paint, drapery cord, insulin, All Bran, dog food, and Easter cards; some items were checked off, undoubtedly with a sense of accomplishment. And there was also a handwritten recipe for "Blueberry Upside Down Cake." For a whopping 25 cents, I went home with a glimpse into someone else's life and a new recipe to try.
Mary Bilyeu | Contributor

As I looked it over more carefully, the recipe was only partially noted; instructions for preparing the fruit topping, once the upside down cake was righted, were there, but apparently the baker was supposed to already have a cake batter ready to mix. Fortunately, I did, indeed, already have a good, basic one to use here. I also had some beautiful fresh raspberries from my friend Marilyn's garden, so I added them to boost the color and flavor of the cake.
So, clearly I didn't make this dessert with slavish devotion to the instructions — how could I? What I did was find a recipe that someone had enjoyed enough to take note of, and — as so many others have done before me — made it my own. But any time I bake this cake, from now on, I will think of the festival, the lovely sunny weekend with my boyfriend, and the anonymous baker whose recipe went on an adventure from her kitchen to a vendor's table, unable to tell its tale fully but still providing me with a story to tell.
Upside Down Berry Cake
Fruit layer:
1 cup blueberries
1 cup raspberries
juice from 1/2 orange
1/2 cup sugar
1 tablespoon cornstarch
slight sprinkle of cinnamon
2 tablespoons butter
Cake:
1/4 cup butter, softened
1/2 cup sour cream
1 egg
3/4 cup sugar
finely grated zest of 1/2 orange
1 teaspoon aluminum-free baking powder
1/2 teaspoon baking soda
1/2 teaspoon kosher salt
1 cup all-purpose flour
Preheat oven to 350 degrees. Grease a 9-inch round baking dish.
Prepare the fruit layer: Spread berries in bottom of greased pan. Sprinkle with juice. Combine sugar, cornstarch, and cinnamon; sprinkle over berries. Dot with butter.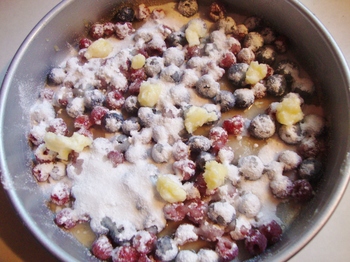 Mary Bilyeu | Contributor
Make the cake: In a large mixing bowl, combine butter, sour cream, egg, sugar, and zest. Stir in baking powder, baking soda, salt, and flour. Carefully drop batter over berries, then spread evenly.
Bake the cake for 25-30 minutes until a toothpick inserted into the center comes out clean. Let the cake rest for 5 minutes, then run a knife around the edge of the pan. Place a large platter over the top of the cake pan and carefully tip cake out onto the platter; remove cake pan, then scrape any lost tidbits of fruit back onto the cake. Let cool before slicing.
Serves 8-12, depending upon how generous the portions are.

Mary Bilyeu - a self-proclaimed Food Floozie (named for her blog, which is taking a summer vacation) - writes for AnnArbor.com on Tuesdays, Wednesdays, and Fridays, telling about her adventures in the kitchen. She is also on a mission to find great deals for her Frugal Floozie Friday posts, seeking fabulous food at restaurants on the limited budget of only $5 per person. Feel free to email her with questions, comments, or suggestions: yentamary@gmail.com.

The phrase "You Should Only Be Happy" (written in Hebrew on the stone pictured in this post) comes from Deuteronomy 16:15 and is a wish for all her readers - when you come to visit here, may you always be happy.