Posted on
Wed, Jun 26, 2013 : 4 p.m.
Vegan Baked Oatmeal Breakfast Squares - simple and nutritious
By Vicki Brett-Gach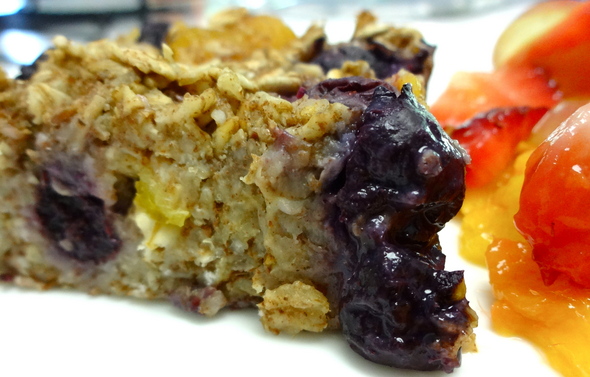 Photo by Sam Gach
If you make oatmeal every morning, you know your breakfast bowl is brimming with minerals, B vitamins and cholesterol-lowering soluble fiber.
But despite your devotion to oats and their many virtues, maybe you yearn to shake things up — just a little. If mushy oats ever get tiresome, these Baked Oatmeal Breakfast Squares may be for you.
Loaded with fruit and non-dairy milk baked right into the oats, these fork-ready squares are a complete and nutritious breakfast, in one tidy little package.
Just combine all of the ingredients in a large bowl, and pour evenly into an oven-ready dish. Bake until firm to the touch. For breakfast that's ready and waiting for you tomorrow morning, bake a batch this evening, and refrigerate overnight.
Although these squares do have a splash of maple syrup in them, they are far from sweet. Feel free to add a little more or less to suit your taste.
I love these squares with sliced fresh strawberries, grapes, mango and bananas. Customize further with chopped walnuts or almonds, more syrup, or an extra dash of cinnamon.
BAKED OATMEAL BREAKFAST SQUARES
2 cups rolled oats
1 1/2 tablespoons cinnamon
2 tablespoons ground flax meal
1 cup blueberries, fresh or (thawed) frozen
1/4 cup dried apricots, diced
2 cups almond milk or soymilk vanilla
1 tablespoon pure vanilla extract
2 - 3 tablespoons pure maple syrup
Instructions
Preheat oven to 350 degrees.
Mix together oats, cinnamon, and ground flax meal in a large bowl. Add berries, apricots, non-dairy milk, vanilla, and maple syrup. Combine well.
Distribute oat mixture evenly in an 8-inch square baking dish. Bake for approximately 25 minutes, or until firm to the touch.
Serve warm, with extra fruit and maple syrup, if desired. Cover and refrigerate leftovers for up to one week.
(Adapted from Neal Barnard's "Power Foods For The Brain".)
Vicki Brett-Gach is an artist, writer, wife, mom, and enthusiastic vegan, and loves to help family and friends discover that you do not have to be vegan to enjoy delicious vegan food. Vicki understands the challenges a new vegan can face, and welcomes your questions and comments at a2vegankitchen@gmail.com.