Posted on
Wed, Jan 9, 2013 : 5 a.m.
Vegan Black Bean Soup gets New Year off to healthy start
By Vicki Brett-Gach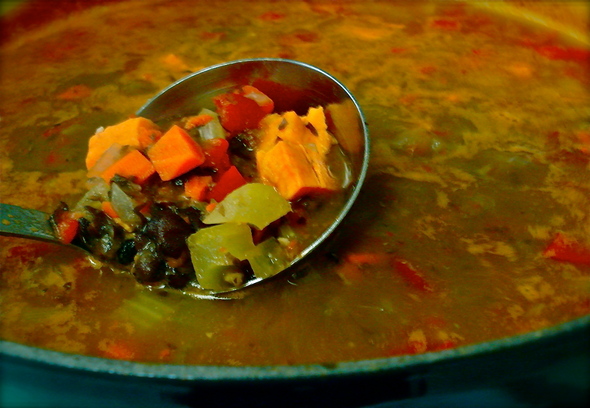 Vicki Brett-Gach | Contributor
After the holidays, aren't we all ready to get a fresh start on healthy eating?
And who isn't looking for ideas that are delicious, gentle on the wallet, and come together without much effort? Did I miss anything on the checklist?
Beans to the rescue.
This recipe for Black Bean Soup is delicious, plus high in fiber, low in fat, and packed with nutrition. And surprisingly, it cooks in minutes so it can be on the table in very short order.
Although I usually end up making adjustments to just about every recipe I make, this one is pretty close to the original, found in Caldwell Esselstyn Jr.'s "Prevent and Reverse Heart Disease." Dr. Esselstyn's book champions a low-fat, plant-based lifestyle and makes a strong case for loading up on colorful vegetables and legumes, which he reminds us are "brimming with fiber, nutrients, and antioxidants, all essential to heart health and well-being."
This soup is overflowing with a color-rich combo of black beans, aromatic onions, red bell peppers, carrots and smooth sweet potatoes. It also has the light crunch of celery, a warm, toasty hint of cumin, and a sweet splash of orange juice.
A final spin or two from an immersion blender creates the perfect consistency, with every spoonful half-chunky and half creamy-smooth. (The photograph above was snapped while simmering, right before the immersion blending step.)
This super-healthy recipe can be an utterly simple solution to your nagging food-related New Year's resolutions, because it is mouthwatering, budget friendly, and almost effortless. With complex, satisfying layers of flavor, this Black Bean Soup makes an inviting and memorable dinner tonight, and a pleasing and wholesome lunch tomorrow.
Black Bean Soup
Yield: approximately 8 servings
Ingredients
1 large onion, chopped (1 cup)
4 or 5 garlic cloves, chopped
2 medium carrots, diced
1 large red bell pepper, chopped (1 cup)
3 15-ounce cans black beans, rinsed and drained
4 cups water or vegetable broth
2 cups orange juice
1 1/2 cups strained tomatoes (or 1 15-ounce can of diced tomatoes, drained)
1 large sweet potato, peeled, and cut into 3/4 inch cubes
2 teaspoons ground cumin
1/2 teaspoon black pepper, to taste
few shakes cayenne pepper, to taste
1 1/2 teaspoons kosher salt, to taste
1 cup celery, sliced
lots of fresh cilantro for garnish, chopped (optional)
Instructions
Over medium high heat, in a large soup pot, saute onions, garlic, and carrots in a little water or broth for about 5 minutes, or until almost tender. Add bell pepper, and continue to saute for another 10 minutes, until everything is very tender.
Add to vegetable mixture the black beans, water or broth, orange juice, tomatoes and sweet potato. Add cumin, black pepper, cayenne, and salt. Bring to a boil, cover, and reduce heat to simmer for approximately 15 minutes.
Add celery, and cook just until the sweet potato is tender, yet celery retains a little crunch, about 2 or 3 minutes more.
Use an immersion blender to process soup to desired texture (slightly smooth, yet still a little chunky). Garnish with fresh cilantro, if desired, and serve hot.
Adapted from Prevent and Reverse Heart Disease by Dr. Caldwell B. Esselstyn Jr.
Vicki Brett-Gach is an artist, writer, wife, mom, and enthusiastic vegan, and loves to help family and friends discover that you do not have to be vegan to enjoy delicious vegan food. Vicki understands the challenges a new vegan can face, and welcomes your questions and comments at a2vegankitchen@gmail.com.