Posted on
Wed, Nov 14, 2012 : 2:20 p.m.
Vegan Creamy Cauliflower and Carrot Soup is soothing, satisfying and delicious
By Vicki Brett-Gach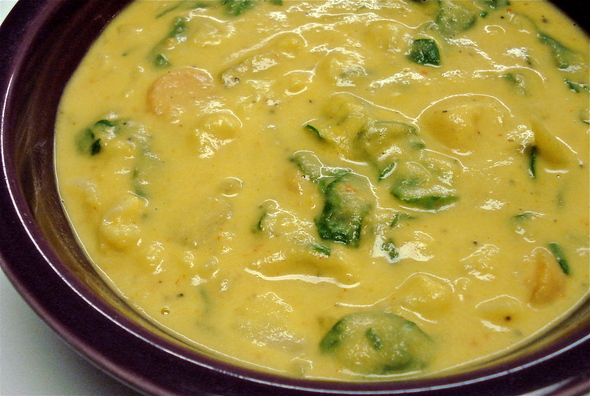 Vicki Brett-Gach | Contributor
Creamy. Comforting. Rich. Indulgent.
Those words don't usually conjure up an image of vegetable soup. But maybe they should.
A vegetable soup this satisfying and delicious might sound like a contradiction in terms. However, this Creamy Cauliflower and Carrot Soup has a few surprise guests — including cashews and carrot juice — that transform ordinary cauliflower, carrots, onions and spinach into an entirely unexpected, velvety comfort food.
Overflowing with so much flavor, you might easily miss that this soup is jam-packed with nutrients. Along with protein, fiber, calcium, magnesium, phosphorus and potassium, it is loaded with vitamins A, B, C, E and K (NutritionData.com).
This Creamy Cauliflower and Carrot Soup cooks in just about 20 minutes, so once your vegetables are prepped, it can be ready in a flash. And though this soup is ultra-nutritious, it may also be the perfect answer to a long, hard day, or a cold, rainy night, when only the most soothing, creamy, and delicious comfort food will do.
Creamy Cauliflower and Carrot Soup (Adapted from "Eat To Live", by Joel Fuhrman)
Serves 6 to 8
1 head of cauliflower, washed, cut into 1-inch pieces
1/2 small onion, chopped
3 stalks celery, chopped
3 carrots, diced
1 teaspoon garlic, minced
2 cups fresh carrot juice
4 cups water
4 teaspoons kosher salt
1 teaspoon pepper
sprinkle of cayenne pepper
1/2 teaspoon ground nutmeg
1 cup raw cashews
5 or 6 cups, fresh baby spinach, finely chopped
Instructions
Place first 11 ingredients into large soup pot (cauliflower through nutmeg). Bring to a boil. Cover and reduce to a rolling simmer for 20 minutes, or until vegetables are tender.
In a food processor or high-powered blender, blend the cashews with about 1/2 of the soup, until smooth and creamy. Return mixture to soup pot and stir well.
Add the spinach, and allow the spinach to wilt from the heat. Serve hot.
Vicki Brett-Gach is an artist, writer, wife, mom, and enthusiastic vegan, and loves to help family and friends discover that you do not have to be vegan to enjoy delicious vegan food. Vicki understands the challenges a new vegan can face, and welcomes your questions and comments at a2vegankitchen@gmail.com.