Posted on
Wed, Dec 12, 2012 : 9:45 a.m.
Vegan Lentil Shepherd's Pie - perfect holiday entree
By Vicki Brett-Gach
Vicki Brett-Gach | Contributor
Even vegans crave hearty, comforting meals this time of year.
A few weeks ago, I stepped up my game with this delicious Hearty Lentil Shepherd's Pie at our Thanksgiving buffet. It is an ideal choice for any cold night, but the ultimate plant-based entree for a holiday dinner. It was so good, I am making it again for Christmas too.
Since holiday meals are synonymous with "meat" to so many people, it's easy to feel overwhelmed when preparing a single meal meant for vegans and non-vegans to share. People tend to have strong opinions, and the word "vegan" can provoke a range of charged responses.
But this dish makes everyone happy. It skips the meat in traditional Shepherd's Pie, and goes right to the good stuff — mashed potatoes!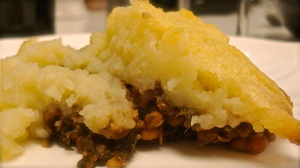 Vicki Brett-Gach | Contributor
First, a savory lentil stew simmers with onions, zucchini, and a dash of dry red wine.
Then the lentils and vegetables are smothered with a thick pile of rich mashed potatoes.
Into a piping hot oven the whole pie goes, and bakes until the potato topping gets crisp around the edges. Most recently I served this with warm whole grain bread, roasted butternut squash and steamed green vegetables.
This recipe does have a touch of oil, but also adapts beautifully to zero added fat, if you omit the oil as I usually do, boosting its nutritional advantages even further.
Hearty Lentil Shepherd's Pie takes just a little bit of time to prepare, and it's worth every minute. I like to assemble two and throw one into the freezer for next time. Just remember to wrap the filled pie dish very well for the freezer, and extend the baking time just about one extra hour, or until bubbling hot, and golden brown.
HEARTY LENTIL SHEPHERD'S PIE
(adapted from Vegan Holiday Kitchen, by Nava Atlas)
Ingredients
1/2 cup fresh bread crumbs or panko bread crumbs
6 large potatoes
1/2 cup soymilk
salt and pepper to taste
2 tablespoons olive oil *
1 large onion, minced
6 ounces zucchini, diced
2 15-ounce cans of lentils, drained and rinsed
2 tablespoons dry red wine
2 tablespoons soy sauce or Bragg's Liquid Aminos
4 tablespoons of prepared chili sauce
1/2 teaspoon cumin
dash of Cajun seasoning, or seasoned salt (optional)
salt and freshly ground pepper, to taste
8 to 10 ounces baby spinach or arugula leaves, chopped
Instructions
Preheat oven to 400 degrees. Have ready a 2-quart round casserole dish, or two deep-dish pie pans.
Scatter the breadcrumbs evenly over the bottom. Set aside.
Peel and chop the potatoes. Place in a large saucepan with enough water to cover. (Salt the water, if desired.)
Bring potatoes to boil, reduce heat to simmer, cover the saucepan, and cook for 20 minutes. Drain and transfer potatoes to a large mixing bowl. Add soymilk, plus salt and pepper to taste, and mash until fluffy and delicious. Cover and set aside.
While the potatoes are cooking, heat the oil* in a large skillet. Add the onion and saute over medium heat until translucent. Add the zucchini and lentils, and bring to a gentle simmer. Stir in the wine, soy sauce (or Bragg's Liquid Aminos), chili sauce, and the seasonings. Cook gently for about eight minutes.
Add the spinach, a little at a time, cooking just until wilted. Remove from heat, taste, and adjust seasonings to your liking.
Pour the lentil mixture into prepared pan(s), and then spread the mashed potatoes evenly over the top. If using two pie plates, divide mixtures evenly between them. At this point, one of the two pie pans can be frozen for later use.
Bake uncovered for 35 minutes, or until bubbling hot, and potatoes begin to turn golden brown and slightly crispy. (If frozen, bake at 375 instead of 400 degrees, for a total of about 90 minutes.) Remove hot dish from oven, and allow to stand for five minutes. Cut into wedges, and serve hot.
* Note: To make this recipe without added oil, just use a nonstick pan to saute the onion, adding a splash of water or vegetable broth as needed to prevent sticking.
Vicki Brett-Gach is an artist, writer, wife, mom, and enthusiastic vegan, and loves to help family and friends discover that you do not have to be vegan to enjoy delicious vegan food. Vicki understands the challenges a new vegan can face, and welcomes your questions and comments at a2vegankitchen@gmail.com.