Posted on
Tue, Jan 15, 2013 : 3:03 p.m.
Vegan menu now available at Arbor Brewing Co.
By Jessica Webster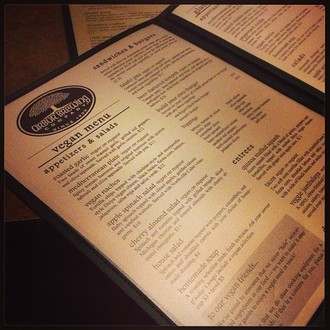 Ryan J. Stanton | AnnArbor.com
Gone are the days when vegans dreaded dining out. No longer are they resigned to ordering the house salad, picking off stray bits of bacon or shredded cheese before hesitantly taking a bite.
Now Ann Arbor is bursting with vegetarian (Seva, Earthen Jar, Hut-K Chaats) and vegan (The Lunch Room, Jazzy Veggie) restaurants, and many more are adding options to their previously carnivore-heavy fare.
Arbor Brewing Co. (114 E. Washington St.) has long made it a practice to accommodate diners with food restrictions, indicating vegetarian and gluten-free choices on its menus. But until recently, other than the brewpub's beers (which are all made without any animal products), vegans were left ordering modified versions of regular menu items.
"We saw that there were things on our menu that we could modify — no cheese or whatever — to make them vegan," explained executive chef Nicole Young. "But there were not a lot of things that were vegan to begin with."
Chef Young decided that the time was right to launch a separate, totally vegan, menu. Some of the dishes featured are regular menu items, adapted to be vegan-friendly. But others, like the quinoa-stuffed squash, were created specifically with vegan customers in mind.
"We have always tried to cater to a wider variety of dietary needs, so it wasn't a huge stretch for us," said Young. "It was just a matter of implementing it."
Young worked up the recipes, testing them out first on friends and family, then offering tastings for the staff, before rolling the menu out for the general public.
Young says that the feedback has been almost universally positive since she introduced the vegan menu in the fall. The most popular items have been traditional pub fare such as the "build your own burger" and the vegan nachos, but rotating seasonal soups and specials have also been a hit.
Me? I'm itching to try the beer-battered tempeh sandwich, described in all-caps glory by the food blog "Vegan Like A Boss" as mouth-wateringly life-changing. Sounds good to me!
Jessica Webster leads the Food & Grocery section for AnnArbor.com. Reach her at JessicaWebster@annarbor.com. You also can follow her on Twitter or subscribe to AnnArbor.com's email newsletters.