Posted on
Wed, Oct 31, 2012 : 1:30 p.m.
Vegan Pumpkin Muffins are delicate and delicious
By Vicki Brett-Gach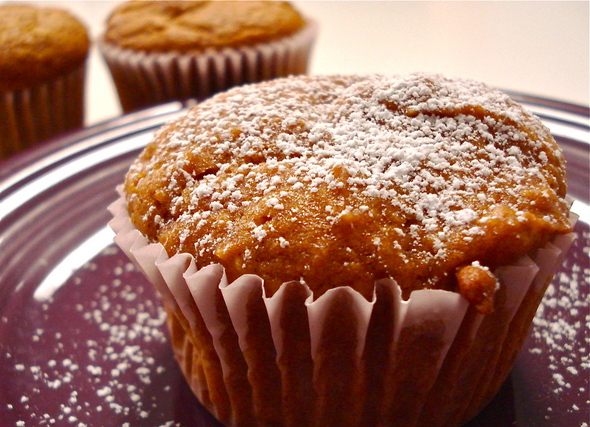 Photo by Sam Gach
I simply cannot get enough pumpkin this time of year. It is one of my favorite things about the fall, and my kids feel the same way.
But my husband has never been a fan of pumpkin. So when he was willing to try one of these Pumpkin Muffins fresh from the oven, I took note. After he devoured it, licked his fingers, and asked if he could take more to work in his lunch the next day, and I knew these were special.
Easy to make with no mixer required, these muffins have a light, delicate texture. And they are out of the oven in just about 20 minutes.
Though the original recipe had six tablespoons of oil, I like to swap in three tablespoons of applesauce for half the oil. But I promise, you will never miss it. These Pumpkin Muffins are moist and delicious.
With that substitution, these become much lower in fat than your typical muffin. In fact, just for comparison, I randomly searched three recipes for Pumpkin Muffins (non-vegan) on the Food Network website. Each recipe called for two eggs, and up to a full stick of butter. One recipe used heavy cream on top of that. So without eggs, butter, or cream, these are little miracles.
And we have plenty of reasons to celebrate with pumpkin. A nutritional super food, pumpkin is loaded with vitamin A, vitamin C, and antioxidant beta-carotenes. It is also a great source of dietary fiber and minerals, including magnesium, potassium and iron.
Before serving, I usually dust these cuties with powdered sugar to look extra pretty, but it's not at all necessary. To dress them up for company, try icing them, just before serving, with this very easy Cinnamon Glaze.
Vegan Pumpkin Muffins
(Adapted from "Vegan Cupcakes Take Over The World," by Isa Chandra Moskowitz and Terry Hope Romero)
1 cup canned pumpkin
3 tablespoons canola oil
3 tablespoons applesauce
1 cup granulated sugar
1/4 cup soy milk
1 teaspoon vanilla extract
1 1/4 cup all-purpose flour
1/2 teaspoon baking powder
1/2 teaspoon baking soda
1/8 teaspoon salt
1 teaspoon cinnamon
1/2 teaspoon pumpkin pie spice
Instructions
Preheat oven to 350 degrees. Line muffin pan with paper liners.
In a medium bowl, stir together pumpkin, oil, applesauce, sugar, soy milk, and vanilla.
Sift in the flour, baking powder, baking soda, salt, cinnamon, and pumpkin pie spice. Stir together until ingredients are well combined, but do not over-mix.
Fill paper liners evenly. Bake for 22 to 24 minutes, until a toothpick inserted in the center of muffins comes out clean. Transfer to a wire rack to cool.
Cinnamon Glaze (optional)
(Adapted from "Vegan Cupcakes Take Over The World," by Isa Chandra Moskowitz and Terry Hope Romero)
3/4 cup powdered sugar
1/2 teaspoon ground cinnamon
2 tablespoons soy milk
1/2 teaspoon vanilla
Instructions
In a small mixing bowl, stir together powdered sugar, cinnamon, soy milk, and vanilla, until smooth and creamy. Keep at room temperature until ready to use. Drizzle glaze over muffins, just before serving.
Vicki Brett-Gach is an artist, writer, wife, mom, and enthusiastic vegan, and loves to help family and friends discover that you do not have to be vegan to enjoy delicious vegan food. Vicki understands the challenges a new vegan can face, and welcomes your questions and comments at a2vegankitchen@gmail.com.