Posted on
Wed, Feb 6, 2013 : 1 p.m.
Vegan red velvet cupcakes are perfect for your valentine
By Vicki Brett-Gach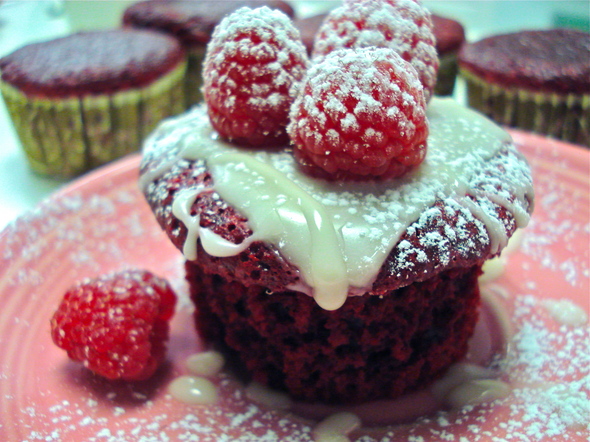 Vicki Brett-Gach | Contributor
These
red velvet cupcakes
are addictive, so please consider yourself warned. Personally, I find it nearly impossible to eat only one of these exquisite cupcakes at a time, no matter how hard I try.
They are perfect for Valentine's Day and make a stunning presentation.
Of course, food coloring gives red velvet batter its signature appearance. But not all food colorings are plant-based, and some are far from it. This has long been a topic among vegans, with the color red getting most of the negative attention. Happily, according to the customer service department at McCormick, one of the most readily available brands, their red food coloring is now 100 percent vegan.
Although the history of red velvet cake is somewhat mysterious, it seems that early references date back to the 1870s. It appears that it wasn't until after the Great Depression that it became something of a sensation.
Because food extracts and colorings were still considered a bit frivolous at the time, the Adams Extract Company found their sales in a slump. To improve sales, the company set up grocery store displays throughout the Midwest and the South, featuring large pictures of red velvet cake. They offered a free copy of the red velvet cake recipe with every purchase. Over the years, the recipe was shared, modified, printed, and reprinted in newspapers across the country, and the rest is history.
Of course this recipe below does take a few liberties with the red velvet tradition, but you will find that by eliminating eggs, buttermilk and shortening, this cupcake is actually delightfully light, yet still moist and heavenly. And I can assure you that valentines of all ages — whether vegan or not — will find these pretty irresistible.
RED VELVET CUPCAKES
Makes 12 cupcakes
Cupcakes Ingredients
1 cup soymilk
1 teaspoon apple cider vinegar
1 1/4 cups all-purpose flour
1 cup granulated sugar
2 tablespoons cocoa powder
1/2 teaspoon baking powder
1/2 teaspoon baking soda
1/2 teaspoon salt
1/3 cup canola oil
2 1/2 teaspoons vanilla extract
1/2 teaspoon pure almond extract
1 tablespoon red food coloring
Icing Ingredients
1 cup of confectioner's sugar, sifted
2 to 5 teaspoons soymilk
Dash of vanilla or almond extract
TO MAKE THE CUPCAKES:
Preheat oven to 350 degrees. Line muffin pan with 12 paper cupcake liners.
In a measuring cup, whisk together soymilk and apple cider vinegar. Set aside to curdle.
In a large bowl, sift together flour, sugar, cocoa powder, baking powder, baking soda, and salt. Set aside.
In a medium bowl, stir together canola oil, vanilla extract, almond extract, and red food coloring. Add the curdled soymilk, and mix well to combine.
Gently fold wet ingredients into dry, and mix just until large lumps disappear.
Fill cupcake liners evenly. Bake 22 to 23 minutes, until toothpick inserted through the center of one comes out clean.
Transfer to a cooling rack to cool completely before icing.
TO MAKE THE ICING:
While cupcakes are cooling, whisk together confectioner's sugar with a small amount of soymilk at a time, until desired consistency is reached.
Just before serving, drizzle cupcakes with icing, and serve immediately. (Adapted from "Vegan Cupcakes Take Over the World," by Isa Chandra Moskowitz and Terry Hope Romero.)
Vicki Brett-Gach is an artist, writer, wife, mom, and enthusiastic vegan, and loves to help family and friends discover that you do not have to be vegan to enjoy delicious vegan food. Vicki understands the challenges a new vegan can face, and welcomes your questions and comments at a2vegankitchen@gmail.com.