Posted on
Tue, Apr 23, 2013 : 8 a.m.
Vegan scones and lemon curd - so delicious, you won't miss the dairy or egg
By Mary Bilyeu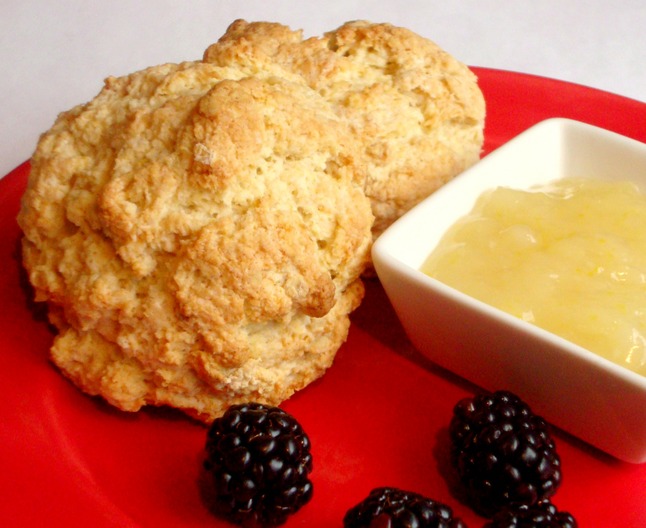 Mary Bilyeu | Contributor
Afternoon tea is probably my favorite meal. And considering how much I like to eat, how I obsess about food, how I enjoy both breakfast for dinner and dinner leftovers for breakfast ... well, to claim a spot at the top of the list is pretty impressive.
So I love scones. And I especially like serving them with lemon curd.
But since this is Ann Arbor Veg Week, I thought I'd take these classics and update them a bit. Sure, they're already vegetarian items since they're made with butter and with eggs but, needless to say, without meat. But why not try to make vegan versions?
And so, that's what I did.
I used Earth Balance butter substitute and So Delicious coconut milk-based products in the scones. And while lemon curd is traditionally made with egg yolks and with butter — which make it rich and luscious — these ingredients, of course, do not qualify for the vegan diet that prohibits all animal products. Instead of using the verboten ingredients, I thickened the sweetened lemon juice with cornstarch and then made it a bit creamier with a touch of So Delicious cultured coconut milk ("yogurt").
The scones were so lovely and tender; and the sweet-tartness of the lemon curd shone through. Jeremy doesn't usually like scones, finding them dry; but he devoured these, telling me that he could eat them for "breakfast, lunch, and dinner."
They were a perfect treat.
Vegan Scones and Lemon Curd
Scones
2-1/2 cups unbleached flour
1/2 teaspoon kosher salt
1/4 cup quick-cook oats
1/2 cup sugar
1-1/2 teaspoons aluminum-free baking powder
1/4 cup Earth Balance butter substitute, softened
1/2 cup So Delicious French vanilla-flavored coconut milk creamer
1 6-ounce container So Delicious vanilla-flavored cultured coconut milk
Preheat oven to 425 degrees. Lightly grease a baking sheet.
In a large mixing bowl, stir together flour, salt, oats, sugar, and baking powder. With a fork, mix in Earth Balance until mixture is starting to look crumbly. Stir together creamer and yogurt; pour into dry ingredients and stir until a soft dough forms.
Take scant 1/4-cupfuls of the batter and gently form flattened balls with it; these will not be perfectly round, but rather free-form and rustic-looking. Place them onto the prepared baking sheet.
Bake for 15-18 minutes until scones are golden and set when lightly pushed on top.
Makes 12 scones.
Lemon Curd:
finely grated zest of 1 lemon
3/4 cup fresh lemon juice (from 3 large lemons)
1/4 cup water
1/2 cup sugar
2 tablespoons cornstarch
2 tablespoons So Delicious vanilla-flavored cultured coconut milk
Place zest, lemon juice, water, sugar, and cornstarch into a small saucepan; bring to a boil and cook, stirring frequently, for 5 minutes until slightly thickened. Pour into a small bowl and let cool completely. Stir in yogurt, cover, and refrigerate.
Makes 3/4 cup.

Mary Bilyeu writes for AnnArbor.com on Tuesdays, Wednesdays, and Fridays, telling about her adventures in the kitchen - making dinner, celebrating holidays, entering cooking contests, meeting new friends ... whatever strikes her fancy. She is also on a mission to find great deals for her Frugal Floozie Friday posts, seeking fabulous food at restaurants on the limited budget of only $5 per person. Feel free to email her with questions, comments, or suggestions: yentamary@gmail.com.

Go visit Mary's blog — Food Floozie — where she enthuses and effuses over all things food-related; and look for her monthly articles in the Washtenaw Jewish News. "Like" her on Facebook, or send a tweet on Twitter, too.

The phrase "You Should Only Be Happy" (written in Hebrew on the stone pictured in this post) comes from Deuteronomy 16:15 and is a wish for all her readers - when you come to visit here, may you always be happy.