Posted on
Wed, May 15, 2013 : 5:30 a.m.
Vegan Southwestern Bean Burgers - nutritious and delicious
By Vicki Brett-Gach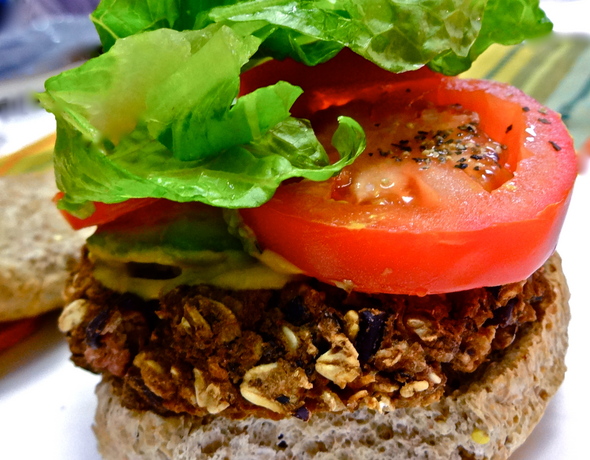 Vicki Brett-Gach | Contributor
Bean burgers have a lot to brag about. They might be the underdog at a summer barbecue, but they can be the ideal plant-based solution to warm weather dining.
This easy version is especially delicious, with the added advantage of zero cholesterol or saturated fat.
These days, bean burgers appear on the menu in many restaurants, and in the freezer section of your local grocery store. But many commercial bean burgers include egg whites or added fats. When you make your own, you can control the quality of every ingredient — and at a fraction of the cost.
The ingredients in these nutritious burgers are all easy-grab pantry items, except for leftover brown rice, which I recommend you make ahead of time.
In fact, you can freeze a bag or two of rice, like I do now, in pre-measured, one-cup packages. That way you can make these bean burgers at a moment's notice. I learned this lesson (more than once) the hard way, when I didn't have time to start cooking a pot of rice from scratch.
This recipe makes eight generous — or 10 smaller — very satisfying, guilt-free bean burgers. They can be baked, grilled, or broiled, but I always dry-pan sauté them. Leftover burgers freeze beautifully.
Top your bean burgers with lettuce and tomatoes, mustard and ketchup, or salsa and sliced avocados. Serve alongside corn on the cob, a fresh green salad, or hot baked potatoes for delicious warm weather dining all summer long.
SOUTHWESTERN BEAN BURGERS
1 14-ounce can kidney beans, rinsed and drained
1 14-ounce can black beans, rinsed and drained
1 cup rolled oats
1 cup cooked brown rice
1/4 cup salsa
2 teaspoons Mexican or taco seasoning
1 teaspoon salt (or to taste)
Instructions
Mash beans with a potato masher until almost smooth, but not entirely. Add other ingredients, and mix thoroughly.
Form into eight to ten burgers. If time allows, refrigerate for a few few minutes to allow burgers to firm up before grilling.
Pan sauté four burgers at a time, on medium-high heat, in a large covered skillet. Cook the first side for about eight minutes, or until crispy. Flip each bean burger carefully, and grill second side for five to eight minutes, or until golden brown. (Covering the pan or grill while cooking helps the bean burgers cook very evenly, all the way through).
Serve hot bean burgers on toasted whole grain buns, with your favorite toppings.
(Recipe adapted from Jeff Novick's Fast Food Burgers and Fries).
Vicki Brett-Gach is an artist, writer, wife, mom, and enthusiastic vegan, and loves to help family and friends discover that you do not have to be vegan to enjoy delicious vegan food. Vicki understands the challenges a new vegan can face, and welcomes your questions and comments at a2vegankitchen@gmail.com.