Recipe:

Tacos with chickpeas and avocado salsa

Posted on Wed, Apr 25, 2012 : 3:30 p.m.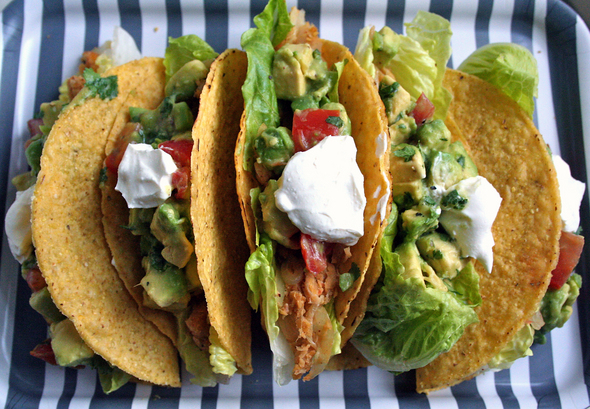 Jessica Webster | AnnArbor.com
You're having a vegetarian friend over for dinner. Quick: what are you cooking? If your answer is vegetarian lasagna, you might want to think again. A friend recently confided that somewhere around eight out of every 10 meals that his (admittedly accommodating) friends serve him include a variation on vegetable lasagna.
So what do you serve? In my house, we often eat meals without meat. On weeknights, you might find us enjoying a nice salad, vegetable pasta or a bowl of soup paired with a baguette. But when we're having friends over, I feel like we need something more substantial and fun.
You could always take a meat-based dish and replace the meat with TVP (textured vegetable protein, usually made from defatted soy protein), but I'm personally not a fan. With so much delicious produce at the grocery store and in the farmers markets, surely we can find something to build a meal around.
My solution this time? Chickpeas. Chickpeas, also known as garbanzo beans, are an ancient legume that are high in protein and dietary fiber. They've been a food staple for millennia. They're eaten in salads, as dessert, popped like popcorn, and as the basis for hummus. And roughly mashed, they make an excellent taco filling.
This recipe has a nice mix of flavors, from the earthy tang of the cumin and chili powder to the fresh crunch of the Anaheim peppers. It's vegetarian and gluten-free, and can be easily be made vegan with the omission of the sour cream topping.

This time of year, when chickpeas are showing up in specialty grocery stores, you can skip the cans and whip them up fresh. Mary Bilyeu has a recipe on AnnArbor.com today for sauteed fresh chickpeas.

Tacos with chickpeas and avocado salsa
Ingredients



2 firm, ripe, medium-sized avocados


1 tablespoon lime juice


1 tomato, diced


2 tablespoons minced mild pepper, such as Anaheim


1 tablespoon olive oil


1 small onion, sliced thinly


14-ounce can of chickpeas (garbanzo beans), drained


1 teaspoon chili powder


1/4 teaspoon cumin


8 romaine lettuce leaves


8 corn tacos


2 tablespoons chopped fresh coriander, plus more sprigs for garnish


salt and pepper


1/2 cup sour cream


Halve, stone, peel and dice the avocados and toss them with the lime juice in a medium bowl.
Stir in the tomato and minced pepper, and season the mixture with salt and pepper. Set the bowl aside.
Heat the olive oil in a saucepan and fry the onion for 3-4 minutes or until golden brown.
In small bowl, mash the chickpeas with a fork and stir them into the pan.
Add the chili powder and cumin and heat gently, stirring for 2 minutes.
Divide the lettuce leaves between the tacos.
Add a spoonful of the chickpea mixture to each taco.
Stir the chopped coriander into the avocado and tomato mixture, then spoon it into the tacos.
Top each taco off with a spoonful of soured cream and a sprig of cilantro for garnish.