Posted on
Wed, Feb 15, 2012 : 9:06 a.m.
Vegetarian white chili to keep you warm this winter
By Jessica Webster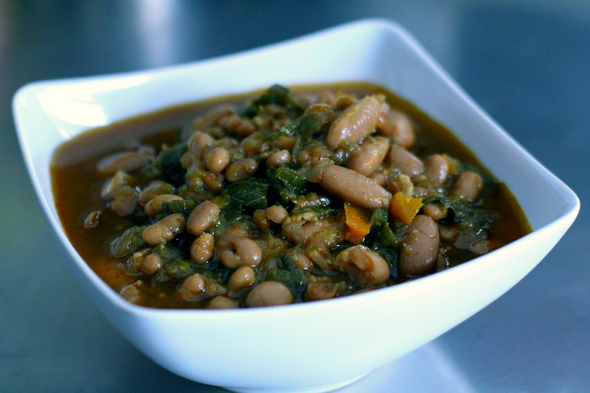 Jessica Webster | AnnArbor.com
Winter settled in (again) last week, and I found myself craving warm, hearty food. When the wind chill gets to around zero, there are few things more satisfying and comforting than a big bowl of chili.
I always love my recipe for hearty, meaty, tomato-based chili, but lately I've been craving a lighter "white" chili. When I was growing up, my mom often made a delicious chicken chili, but I thought I'd challenge myself to see if I could cobble together a white chili without meat.
It was pretty easy, actually. I'm an unapologetic (okay, semi-apologetic) meat lover, but I'm always happy to get my protein from a tasty, high-fiber, plant-based source as well. And when all is said and done, I didn't miss the meat at all.
For this recipe, any white bean would do, but I chose to use a mixture of cannellini (thinking they'd hold their shape and be a little more toothsome even after a long simmer) and small white beans.
Looking for some depth and variety in flavor and heat, I went for a combination of jalapenos and roasted poblano peppers. I roast my poblanos in the toaster oven, but you can also do it under the broiler in your oven. An even easier pepper route would be to grab a couple of small cans of hot or mild (or one of each) diced chiles from the grocery store.
For the beer in the recipe, Corona would seem to be the obvious choice, but I had Heineken in the fridge and it worked well. I used a cup of beer in the recipe (and drank the rest of the bottle while I cooked!) but these values are approximate. You can use more beer or stock if you prefer your chili to be soupier.
Easy vegetarian white chili
Ingredients
1 tablespoon olive oil
1 medium onion, diced
1 sweet pepper, seeded and diced
1 jalapeno pepper, seeded and minced
4 cloves garlic, very thinly sliced
1 poblano pepper, seeded, roasted and diced
2 (15.5-ounce) cans cannellini or other white beans
1 (11-ounce) can tomatillos, drained and chopped
3 cups vegetable stock
1 cup light beer
1 teaspoon cayenne pepper
1 bay leaf
1 teaspoon chili powder
1/2 teaspoon cumin
1 handful fresh cilantro, shredded or chopped
salt and pepper to taste

Directions
Heat the olive oil over medium heat in a deep skillet (you can use a medium skillet if you're going to cook the chili in a crock pot). Add the onion, sweet pepper and jalapeno and cook, stirring regularly, until the onion softens.
Add the garlic and cook for 2 more minutes, stirring so the garlic doesn't burn.
(At this point, you can transfer the onions and peppers to the crock pot, add the remaining ingredients, and cook on low for 6-9 hours.)
Otherwise, add the beer and let it simmer and reduce for a few minutes. Then add the poblano, the tomatillos, beans, broth and spices (in other words, everything else). Let the chili simmer for 30 minutes or so as the flavors combine and the liquid is reduced.
Remove the bay leaf before serving. Serve with chopped cilantro, diced avocado, sour cream, shredded cheese, or any of your favorite chili toppings.
Serves 4-6.

Jessica Webster leads the Food & Grocery section for AnnArbor.com. You can reach her at JessicaWebster@AnnArbor.com.