Posted on
Thu, Dec 22, 2011 : 4:15 a.m.
Vicki's Famous Peanut Brittle will disappear as fast as you can make it
By Peggy Lampman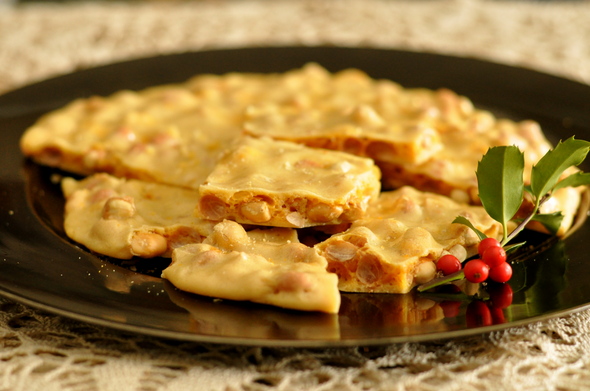 Peggy Lampman | Contributor

Lest you need reminding, Christmas is three shopping days away. And though gifts from the kitchen are thoughtful presents, and appreciated treats for co-workers and Santa, the last thing you've the time to make is this peanut brittle, right? Maybe not. It takes less time to make this batch of brittle than it does to drive down Washtenaw in holiday traffic.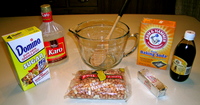 My husbands downfall is this peanut brittle. I smell it all over him when he comes home from work during the holiday season. When I call him at the office, he can barely speak, his mouth is so glued together with peanuts and candy. Vicki Pope, a co-worker of his, brings batches to the office every year, and it disappears as fast as she makes it.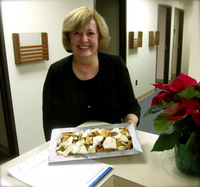 "I began making it 30 years ago for a sick relative — it was the only thing we could get her to eat and enjoy, Vicki says. "My 92-year-old stepfather loves to receive a package of peanut brittle in the mail each Christmas. I send him a large supply to enjoy for a few weeks. Even for his July birthday, I send the treat; that's our tradition. He asks for nothing, except this. What an easy person to please."
Peanut Brittle is also easy on our beleaguered December purse-strings. A big batch of brittle only costs peanuts; one bag of P-WEE P-Nuts, enough for three batches, hovers around $2.69 at Meijers. I asked Vicki how long the brittle keeps. She says she's never had it around the house longer than several weeks, but it remained delicious through then.
A recipe that saves time, cash, and puts a twinkle in your eye is one of the best gifts Vicki and I can give to Ann Arbor.com readers. May your days be merry and bright, and this Christmas may you savor every bite.
Active Time: 20 minutes
Rest Time: 30-60 minutes
Yield: 1 cookie tray; enough to fill a 6-inch by 3-inch tin.
Ingredients
1 cup white sugar
1/2 cup white corn syrup, such as Karo
1 cup raw peanuts
1 teaspoon unsalted butter
1 teaspoon vanilla extract
1 teaspoon baking soda
Instructions
1. Place sugar and corn syrup In a 2-quart glass bowl. With a wooden spoon, stir well to combine. Microwave on high 2 minutes. Remove and stir, then continue microwaving an additional 2 minutes.
2. Stir in peanuts. Return to microwave and cook on high 2 minutes. Remove and stir, then continue microwaving an additional 2 minutes.
3. Remove from microwave and stir in butter and vanilla. Stir well and microwave on high 1 1/2-2 minutes. (Watch very carefully; do not overcook or it may burn.)
4. Meanwhile, lightly grease a baking sheet.
5. Remove mixture from microwave and stir in baking soda. It will foam and bubble. Stir gently until light and foamy. Immediately pour mixture into prepared baking sheet. Let cool in the baking sheet at least 30-60 minutes or until firm.
6. Break into your preferred size pieces.

My new web site (packed with holiday recipes) has recently been launched. (www.dinnerFeed.com)! I'm a real-time food writer and photographer posting daily feeds on my website and in the Food & Drink section of Annarbor.com. You may also e-mail me at peggy@dinnerfeed.com.