Posted on
Tue, Jan 26, 2010 : 10:02 a.m.
Visit to Two Creeks Organics
By Corinna Borden
In my Farm to Fork series I visit local farms around Ann Arbor and share what I learn.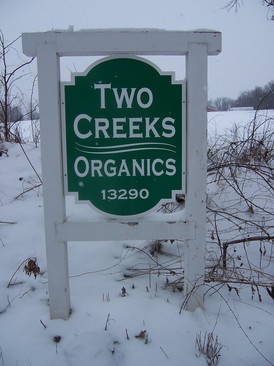 Corinna Borden | Contributor
Two Creeks Organics
began four years ago when Amie and Mark Sanford purchased land in Manchester. When Mark could no longer work as a full-time carpenter, he turned to Amie and said, "I am going to start an organic farm."
Many people looking for a second career would not turn to such physical labor, but that did not deter Amie and Mark (who get help from Amie's brother and father during the season). As Amie said when I asked her about that decision, "Well, no one ever tells me it is a bad idea. So I just jump in."
What became clear as I spoke to Amie about their mostly community supported agriculture business model was that they are not the only ones jumping in. Their CSA customers are as well.
Valley Family Farm, Garden Patch Farm (which is no longer active), and Tantre Farm were very helpful as Two Creeks Organics learned where to purchase seeds, what to plant, and how to market. One of the first things the farming community shared was that Two Creeks would need a Web site to advertise their community supported agriculture shares.
Amie describes their first year of doing the CSA memberships. At that point all of the marketing they had done was via the Web site. "Our first year we had one person call to see if we even existed. I was amazed that people were sending us money online and no one ever checked. They just sent their money. How cool is that? Our first season we had 50 CSA shares. I was so touched. People are that trusting, it is amazing."
Two Creeks Organics delivers their CSA shares at the Westside Farmers Market, the Saline Market, and at their farm. "Everything that we grow goes to our CSAs and they get first dibs on our eggs, chickens, and everything else we do because that is the main part of our income."
There is not a lot of food available after filling the boxes. I was able to receive a box one week at the Westside Market after a subscriber did not pick up their box. It was chock full to the brim with fresh goodies - we could barely finish everything to return the box to Amie that next week.
Every year Two Creeks is planting and trying to grow new things, last year it was sweet potatoes this year it could be artichokes. Amie and Mark learned last season when they tossed the seed potatoes in diatomaceous earth before planting they did not get the blight. They have a beehive behind the chicken coop to help them pollinate their crops and Amie's father has planted an orchard to slowly mature over the years.
Mark Sanford's skill as a carpenter is evident in the chicken "coop de ville," barn, and the house. The Sanford's feed the poultry - meat chickens, ducks, turkeys, and egg chickens - organic feed and they are free range. "The chickens love our tomatoes."
You can check out Two Creeks Organics' certificates online. Certified Naturally Grown is an international movement that seeks to help smaller organic farms navigate the high fees of organic certification.
Now is the time to sign up for a CSA share for the 2010 growing season. Two Creeks Organics offers both full and half shares.
The Farm to Fork series focuses on local farms around Ann Arbor. If you would like me to visit your farm drop me a line and say hello. You can also check out my website and read my book!