Posted on
Wed, Aug 1, 2012 : 1:25 p.m.
Vote for Washtenaw County's best ice cream parlor
By Bob Needham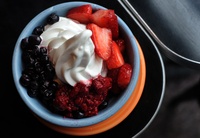 It's time for step two in the search for Michigan's best ice cream parlor.
John Gonzalez,—the statewide entertainment reporter for MLive, AnnArbor.com's partner website, is conducting the search, and the process got under way this week with a call for possible contenders.
We got lots of suggestions, and thanks to those who submitted them. Quite a few were for parlors outside of Washtenaw County, and I've forwarded those to "Gonzo." But the task before us now is to conduct a poll on the contenders from our area, with similar polls being conducted by our sister websites around the state. The winners of those polls will become must-visit stops as Gonzo undertakes his tasting tour to determine an ultimate winner.
So, what's your favorite ice cream parlor in Washtenaw County? Vote in the poll below (and keep in mind we're considering overall experience as well as the quality of the ice cream itself). The poll runs through 9 a.m. Aug. 8. And once the winners are known, we'll keep you posted as Gonzo eats his way across Michigan.
For more background, read Gonzo's post on the new venture.
Bob Needham is director of entertainment content for AnnArbor.com. Reach him at bobneedham@annarbor.com or 734-623-2541, and follow him on Twitter @bobneedham.