Posted on
Mon, Dec 26, 2011 : 6:36 a.m.
Waffles with Strawberry Compote might become your favorite breakfast-for-dinner treat
By Peggy Lampman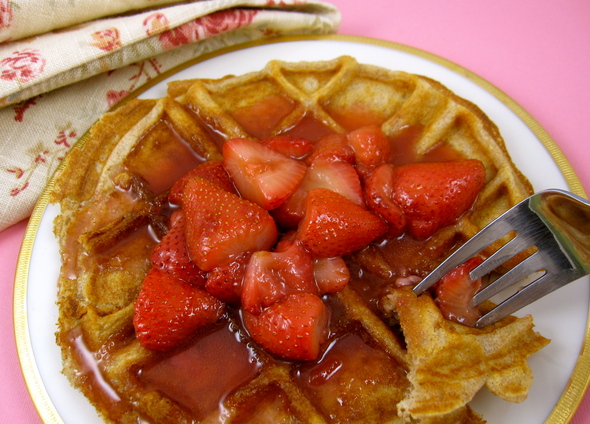 Peggy Lampman |Contributor

The new Holiday Cookbook answers all of your cooking needs. Strapped for time? Check out the well-tested Super-Simple section.
I'm craving solitude and comfort food after the past month of holiday madness. And waffles for dinner sounds incredibly appealing to me. Especially this waffle recipe, which is my bar none favorite breakfast-for-dinner treat.
After the past several weeks' indulgences, my body would probably be better served with a dish of quinoa and steamed veggies. But not just yet. We've another week before resolutions need to be made. And, after all, I'm using whole wheat flour in the recipe and lots of healthy fresh strawberries in the syrup.
Time: 40 minutes
Number of servings (yield): 6-8 waffles
Ingredients
3 teaspoons unsalted butter
1/2 cup sugar
3 tablespoons orange juice
1 1/2 pounds fresh strawberries, washed, hulled and cut in half
1 1/3 cup whole wheat or white flour
1/2 tablespoon sugar
1/2 tablespoon baking powder
1/2 teaspoon baking soda
1/2 teaspoon salt
1/3 cup vegetable oil, plus additional for brushing waffle iron
1 1/2 cups well-shaken buttermilk
2 large eggs
Instructions
1. In a medium-sized sauté pan, melt butter. Add sugar and orange juice; cook until sugar dissolves.
2. Add strawberries and cook, stirring, until they soften and begin to release juices, 3-5 minutes.
3. Preheat oven to 200 degrees. Heat waffle iron.
4. Whisk together flour, sugar, baking powder, baking soda, and salt. Add buttermilk, oil, and eggs to dry ingredients and whisk until smooth.
5. Brush hot waffle iron lightly with vegetable oil, if necessary, and spoon batter into waffle iron; cook according to manufacturer's directions. Transfer waffles to a baking sheet, and place in oven until ready to serve.
6. Spoon warm strawberry compote on waffles before serving.
My new web site (packed with holiday recipes) has recently been launched. (www.dinnerFeed.com)! I'm a real-time food writer and photographer posting daily feeds on my website and in the Food & Drink section of Annarbor.com. You may also e-mail me at peggy@dinnerfeed.com.