Washtenaw Dairy a finalist in the search for Michigan's best ice cream parlor
Posted on Thu, Aug 9, 2012 : 11:47 a.m.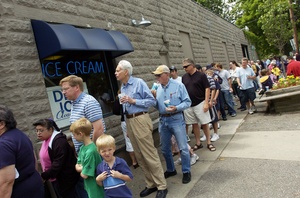 Leisa Thompson | Ann Arbor News file photo

The search for Michigan's best ice cream parlor continues, and now we know all the contenders.

If you glanced at the poll to determine Washtenaw County's entrant any time during the past week, you probably already know the outcome: Washtenaw Dairy. And "landslide" isn't a strong enough word for the voting.

With nearly 2,500 votes cast in the poll and 10 possible choices suggested by readers, the Old West Side landmark racked up an amazing 64 percent of the vote. Second place was split by two classic downtown parlors, Stucchi's and Kilwin's, with 7 percent each.

Now comes the tasting. The project is being conducted by John Gonzalez, the statewide entertainment reporter for our sister website, MLive. "Gonzo" has announced all the finalists from around the state, and in the coming days he will visit them all to sample the ice cream and soak up the atmosphere. Gonzo plans to announce a specific itinerary on Friday.

Keep watching AnnArbor.com for more news from the search. A top 10 will be announced on Aug. 21.

Washtenaw Dairy is located at 602 S. Ashley St., at the corner of Madison St. Summer hours are 5 a.m.-10 p.m. every day.