Posted on
Fri, Aug 30, 2013 : 4:43 a.m.
Watermelon-Pomegranate Soup with Mint & Feta - choosing seedless fruit saves time
By Peggy Lampman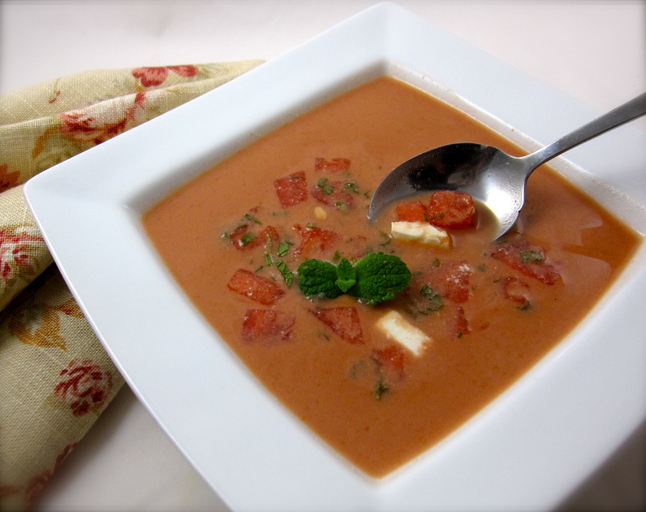 Peggy Lampman | Contributor

To receive my lastest dinnerFeed posts
by email, sign up here.
There are some really sweet local melons to be had, so get out there and get 'em, while the gettin's good.
There is much debate over whether to purchase seedless or seed-in watermelon. When purchasing watermelon to simply slice and enjoy, I purchase seed-in. For me, like a bone-in steak, watermelon containing seeds is tastier.
That being said, when using watermelon in a salad or soup recipe, such as the one below, I always purchase seedless. Picking out the seeds makes me crazy. Who has the time?
Time: 30 minutes
Number of servings (yield): 8-9 cups
Ingredients
6 pounds red watermelon; seeds removed if not seedless, and cut into hunks (approx. 9 cups)
2 tablespoons chopped fresh mint
3 tablespoons pomegranate molasses
12 ounces plain Greek yogurt
1/2 cup crumbled feta (6 tablespoons)
Instructions
1. Dice a portion of the watermelon to yield one cup. In a small bowl, combine diced watermelon with mint and set aside.
2. In batches, blend remaining watermelon, pomegranate molasses and yogurt until smooth. Let sit 1/2 hour at room temperature. With a sieve, strain soup. (The soup may be refrigerated several hours before serving at this point.)
3. When ready to serve, divide among bowls. Garnish each bowl of soup with reserved watermelon-mint and feta. Serve.
Peggy Lampman is a real-time food writer and photographer posting daily feeds on her website and in the Food & Grocery section of Annarbor.com. You may also e-mail her at peggy@dinnerfeed.com.