Posted on
Fri, Apr 29, 2011 : 10:58 a.m.
Annamarie's Lusciously Lemony Wedding Cake with Blackberry Sauce
By Peggy Lampman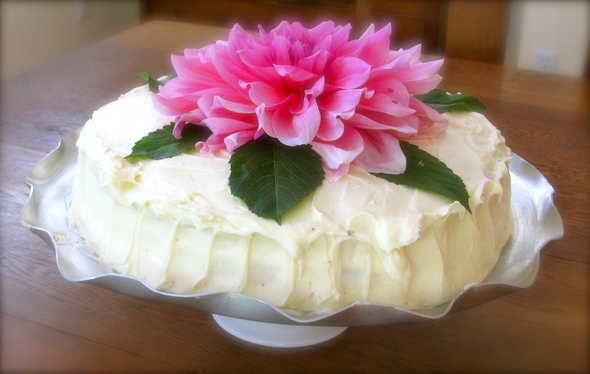 Peggy Lampman | Contributor

Peggy Lampman's Friday dinnerFeed
This is a wedding cake fit for a king and a queen! In September '09, I blogged about local baker Annamarie Asher's lemon cake with blackberry sauce, and I haven't sunk my teeth into a finer cake since. It's certainly a recipe worthy enough to repeat in commemoration of today's royal wedding in London.
This is certainly a recipe that can suck up a day. But if you have the time, and enjoy the therapies of baking, you will be rewarded with a confection for the Gods.

Peggy Lampman | Contributor

Annamarie says that this is a cake for lemon lovers. It starts with a lemony buttermilk cake cut into three layers. The original Bon Appetit recipe calls for a pure lemon curd filling between the layers that's topped with a satiny cream cheese and a lemon curd frosting.
If pure lemon curd is too lemony for you, make the lemon Bavarian cream for one or both of the filling layers — see below recipe for options. Annamarie garnished this cake with a dahlia. Any fresh seasonal flowers would be lovely.
"The perfect dessert is something you would want to eat for breakfast." — Annamarie Asher
Lemon Wedding Cake with Blackberry Sauce
Adapted from Bon Appetit, June 1994
Yield: 12-inch cake
Lemon Curd
1 cup fresh lemon juice
2 sticks (1 cup) unsalted butter
2 Tablespoon grated lemon peel
6 large egg yolks
4 large eggs
1 and 3/4 cups sugar
Cake
4 cups cake flour
2 teaspoon baking powder
1 teaspoon baking soda
1 teaspoon salt
2 sticks (1 cup) unsalted butter
2 cups sugar
5 large eggs, separated
1 Tablespoon grated lemon peel
1 and 1/2 teaspoon vanilla
2 cups buttermilk
1/2 teaspoon cream of tartar
Frosting
12 ounces cream cheese, room temperature
2 sticks (1 cup) unsalted butter, room temperature
2 cups powdered sugar or table sugar
1/4 cup whipping cream
1 cup lemon curd (see above)
Pastry Cream
1 cup whole milk
3 large egg yolks
1/4 cup sugar
5 Tablespoons plus 1 teaspoon cornstarch, sifted
3/4 teaspoon vanilla
2 Tablespoons unsalted butter, cut into bits at room temperature
Lemon Bavarian Cream
To fill one layer:
1/2 of the above pastry cream recipe
Approx. 1/4 cup whipping cream
Approx. 1 cup lemon curd
To fill both layers: Use full pastry cream recipe
Lemon curd and whipping cream to taste
Blackberry Sauce
1 1/8 cup blackberry jam
1/3 cup creme de cassis
18 ounces fresh blackberries (or frozen, unsweetened)
FOR CURD:
1. Stir first 3 ingredients in heavy large non-aluminum saucepan over medium heat until the butter melts.
2. Whisk egg yolks, eggs and sugar in large bowl until blended. Gradually whisk in hot lemon mixture.
3. Return mixture to same saucepan; whisk over medium heat until thick and smooth, about 10 minutes; do not boil. Transfer mixture to bowl and place that bowl in larger bowl filled with ice water. Stir mixture a few minutes until it cools. Remove bowl from ice bath. Press plastic wrap directly onto surface to keep skin from forming. Chill for a few hours.
Can be kept for several days in refrigerator.
FOR CAKE:
1. Preheat oven to 350 degrees. Line 12-inch springform pan with parchment paper.
2. Sift cake flour, baking powder, baking soda and salt into medium-sized bowl.
3. In a large bowl, beat butter until smooth. Gradually add sugar, beating until fluffy. Add egg yolks, one at a time, beating well after each addition. Beat in lemon peel and vanilla. Stir in sifted ingredients in three batches alternating with buttermilk, beginning and ending with dry ingredients.
4. Beat egg whites with cream of tartar in bowl until medium-firm peaks form. Fold 1/3 of beaten egg whites into batter to lighten. Fold in remaining egg whites. Spoon batter into pan and smooth.
5. Bake until cake is golden on top and tester inserted into center comes out clean, approximately one hour. Check prior to one hour. Remove rim of springform pan and let cake cool completely. Cover with plastic wrap and chill until you are ready to assemble the cake.
FOR FROSTING:
Beat cream cheese and butter in large bowl until fluffy. Gradually beat in 2 cups of powdered sugar or granulated sugar. Gradually add 1/4 cup cream, beating until just well blended. Add lemon curd and beat until smooth. Cover frosting; chill until very cold and spreadable.
FOR PASTRY CREAM:
In a small sauce pan, stir together the egg yolks, cornstarch and sugar until smooth. In another saucepan, heat milk until boiling. Slowly pour milk into egg yolk mixture, whisking constantly, over medium heat. This will thicken quickly. When thick and smooth, remove from heat and scrape into bowl. Stir in butter and vanilla until smooth. Let cool to room temperature
FOR LEMON BAVARIAN CREAM:
For enough to cover one layer of cake, take 1/2 of above pastry cream and put in bowl. Save the other half for another use. With electric mixer, blend the pastry cream until smooth. Add lemon curd to taste and continue blending with electric mixer until well-incorporated and smooth. In a separate bowl, beat whipping cream until soft peaks form. Fold into the pastry cream/curd mixture. Chill.
FOR SAUCE:
Whisk jam in large saucepan over medium-low heat until melted and smooth. Whisk in cassis. Add berries and continue to cook on low heat, smashing berries, for several minutes, until berries have softened. Pour sauce through sieve into bowl, smashing berries to extract juice and pulp but not seeds. Chill until cold.
TO ASSEMBLE CAKE:
Using a long serrated knife, cut each cake horizontally into three equal layers. This will be easiest if cake is cold. Place bottom layer, cut-side-up on cake plate. Spread filling (pure lemon curd or Bavarian cream) over the bottom layer. Top with middle layer and spread filling of choice over that layer. Top with third layer, cut-side-down. Spread frosting over sides and top of cake. Serve cake with blackberry sauce.
Looking for a specific recipe? Click here for dinnerFeed's recipe search engine; type the recipe or ingredient into the search box. I am a real-time food writer and photographer posting daily feeds on my website and in the Food & Drink section of Annarbor.com. You may also e-mail me at peggy@dinnerfeed.com.