Posted on
Wed, Nov 23, 2011 : 7 a.m.
Experience a German Christmas market at KindleFest on December 2
By Monica Milla
Design by Nicole Ray
A German
Christmas market
at Kerrytown's KindleFest on Dec. 2 features a bonfire, s'mores, a children's lantern parade, carolers, and traditional German food, mulled wine, and gifts. St. Nikolaus and badboy sidekick Krampus also make an appearance.
A little bit of Germany comes to Ann Arbor in the form of a traditional Christmas Market, or Weihnachtsmarkt, on Friday, Dec. 2, from 6 p.m. to midnight as part of the Kerrytown KindleFest. No passport required, and you don't need to be German to appreciate the food and festivities!
There will be live music, a lantern parade for kids and a bonfire to keep warm, as well as all sorts of food, such as real German pretzels, spiced nuts, Stollen cake, brats, potato salad and mulled wine (Glühwein), for purchase! Also available are holiday gift items such as spices for making mulled wine, German wooden pyramids and other craft items.
Starting at 7 p.m., German students from Gabriel Richard High School will perform German Christmas carols. Immediately thereafter, children can take part in a lantern parade and also take to the stage to sing songs of their own. There is also an adult singalong. The lantern parade (Laternelaufen) is a German tradition that normally takes place in mid-November on St. Martin's Day. Lanterns with battery-operated lights will be on sale for $10 starting at 6 p.m.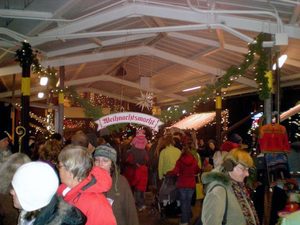 Photo by Peter Kappus
Now in its third year, the Weihnachtsmarkt is organized through the Friends of the Ann Arbor-Tübingen Sister Cities Relationship by Peter and Carol Kappus, as well as Lisa McDonald of TeaHaus, and volunteers from the University of Michigan German Club and the University of Michigan Pre-Dental Club.
Vendors are set up in wooden market booths, made by Peter Kappus, which look like the booths at holiday markets in Germany. Several German organizations will have booths at the market, including the Deutsche Schule Ann Arbor and Sprachwerkstatt (German School and Language Workshop).
The Weihnachtsmarkt is part of the larger KindleFest event, which is sponsored and funded by the Kerrytown District Association. Many other regional vendors will have holiday greenery, crafts and food for sale. The event takes place during downtown Ann Arbor's Midnight Madness.
The Christmas Market Tradition

Throughout December, Christmas markets pop up in town squares in cities all over Germany, Austria and Switzerland. The Weihnachtsmarkt or Christkindlmarkt is an outdoor market, similar to a farmer's market, of holiday food, gifts, crafts and spirits. Vendors sell their wares out of wooden booths, usually with red-and-white-striped roofs, and feature the traditional holiday foods of the country. Christmas markets are very much part of the holiday experience, with people taking a break and relaxing with food and drink, while getting in a little shopping.
Germany's largest Christmas market is the Christkindlesmarkt in Nuremberg. The largest German Christmas markets anywhere near Ann Arbor are the Chicago Christkindlmarket and the Christkindl Market in Kitchener-Waterloo, Ontario. I've been to both and can vouch they are worth the trip. I'm very excited, however, to be able to attend a local market this year!
St. Who and Kram What?

On the evening of Dec. 5, German kids put out a shoe or boot for St. Nikolaus. If they've been good, they awake to sweets or small gifts in their shoe on Dec. 6. If they've been bad, the may get coal or branches (a switch) from St. Nikolaus' naughty counterpart, the monster Krampus. (Krampus is primarily an Austrian tradition, though his human counterpart, Knecht Ruprecht, is popular in Germany.)
Monica Milla, the Garden Faerie, is a master gardener volunteer, instructor, speaker, garden coach, and author of "Fun with Winter Seed Sowing." She has a weakness for German Christmas markets.