Posted on
Thu, Nov 4, 2010 : 6:09 p.m.
Welcome Ann Arbor's new microbrewery, Wolverine State Brewing Co.
By David Bardallis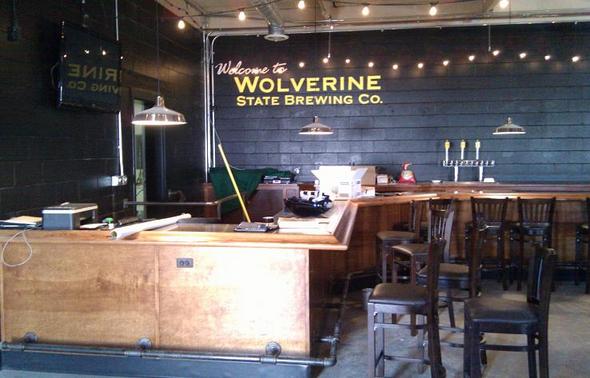 David Bardallis | Contributor
The long bureaucratic nightmare is at last over for Wolverine State Brewing Co. as its new tap room at 2019 W. Stadium on Ann Arbor's West Side passed its final inspection today and is officially set to open for business tomorrow, Friday, Nov. 5, at noon.
Seven beers will be available to start (there are nine taps altogether), five lagers and two ales. Here's the breakdown (quoted commentary from brewer Oliver Roberts):
Wolverine Premium Lager — The bottled stuff you've seen in supermarkets.
Big House Brown — "Dark, looming, and session-able at 3.7 percent ABV."
The Pride of Biscuitville — "We place it in the bock category for no other reason than it has no place other than the Specialty Beer category, and we believe all beers to be special." Made with 30 percent biscuit malt and fermented with bock yeast.
Gulo Gulo Northwest Lager — Named after the wolverine itself, this well-balanced lager might be considered an "IPL" with plenty of bitterness derived from Centennial and Cascade hops. Clocks in at a walloping 6.9 percent ABV.
emOATable Lager — "Rounded, complex and roasty" brew made with oats and sporting a 5.7 percent ABV.
Wench's Westside Wheat Ale — Made in part with locally grown wheat grains, this light ale (3.8 percent ABV) is "refreshing, citrusy, and flavorful."
Insolent Mink India Pale Ale — "Strikingly bitter, savory and hop-quenching" ale made with Simcoe, Amarillo, and Chinook hops, pouring at a 6.4 percent ABV.
Because it's a microbrewery tap room, not a brewpub, there is no kitchen, nor is there a full bar (microbreweries are allowed only to serve their own beer). Dry snacks are available, however, and food from local restaurants can be ordered and delivered (a "menu of menus" is available for patrons to choose from).
Entertainment options include several dartboards, a foosball table and some strategically positioned large-screen TVs.
Regular hours are 3 to 11 p.m. Monday through Thursday.; noon to midnight Friday and Saturday; and noon to 5 p.m. Sunday. (Saturday hours will vary during football season, according to Michigan's home game schedule; this Saturday it will open at 8 a.m. for the Illinois game.) The Tap Room is also available for private party rental.
David Bardallis is a freelance writer and editor, blogger, bon vivant, and man about town. Visit his website, DavidBardallis.com, to engage his services or read his latest. Email your beer-related thoughts to annarborbeer@gmail.com, follow @dbardallis on Twitter, or join the "All the Brews Fit to Pint" Facebook page.