Posted on
Fri, Jul 12, 2013 : 3:33 p.m.
Ann Arbor needs a cronut bakery
By Jessica Webster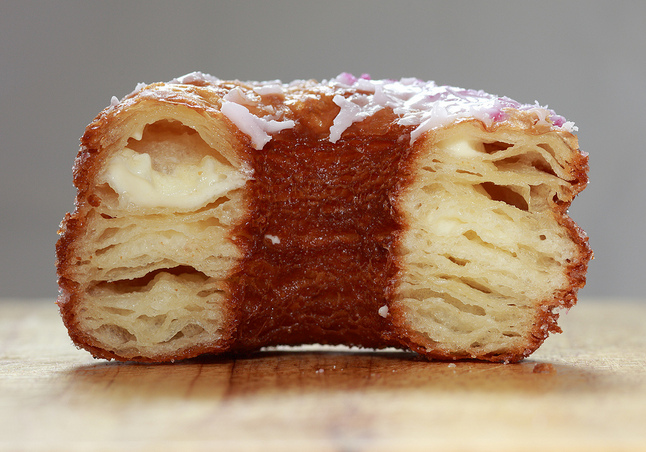 Photo by Flickr user ccho.
Ann Arbor has many wonderful things — a top-notch university, one of the best folk-clubs in the country, a world-famous deli — just to name a few. What Ann Arbor does not have is a bakery that sells
cronuts
.
Don't know what a cronut is? Think it sounds like a mythical creature from Game of Thrones? Allow me to clue you into the pastry phenomenon that haunts my dreams.
To put it simply, a cronut is a croissant and doughnut hybrid. Dreamed up by pastry chef Dominique Ansel and rolled out for the first time at his eponymous Soho bakery in May, this confection has inspired rabid devotion.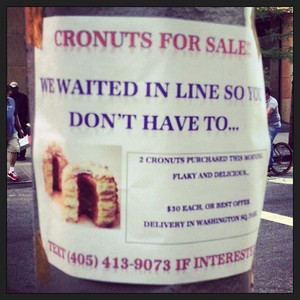 Photo by Flickr user MjaMes1408
People start lining up for cronuts four hours before the
Dominique Ansel Bakery
opens at 8 a.m. Some are there to taste the decadent treats for themselves, others are looking to turn a cronut profit.
That's right, friends. You don't actually have to stand in line for a cronut in New York. There's a thriving business in cronut resale on Craigslist, where the confections — which sell for $5 apiece at the Dominique Ansel Bakery — are being scalped for $35 to $50 each.
They're that good.
I love a good doughnut, and I would travel some distance for a well-executed croissant (though luckily, in Ann Arbor, I don't need to), but the idea of a doughnut-croissant hybrid sends my senses reeling. I need to try this.
I could make my own cronuts, I suppose. One of my favorite food blogs, Food52, recently published a recipe.
"Puff pastry sounds daunting to make from scratch, but it's really a matter of mixing together a basic yeasted dough, slathering it with butter and then folding it up like a letter a bunch of times, rolling and chilling between each fold."
Yeah, that doesn't sound like a lot of work.
Instead, I implore you, bakers of Ann Arbor: please make us a croissant-donut hybrid. We can't call it a cronut — that's been trademarked. Katy Loy at Pastry Peddler — what about a Doughssant? Miyoko Honma — brilliant Cafe Japon baker — surely you want to tackle the Croissanut? Scott Newell at Big City Small World, friends at Zingerman's Bakehouse ... please?
Don't make me drive to New York.
Jessica Webster leads the Food & Grocery section for AnnArbor.com, a part of the MLive Media Group. Reach her at JessicaWebster@annarbor.com. You also can follow her on Twitter or subscribe to AnnArbor.com's email newsletters.