What are you doing New Year's Eve?
Posted on Mon, Dec 28, 2009 : 12:30 p.m.
"Maybe it's much too early in the game Ah, but I thought I'd ask you just the same What are you doing New Year's New Year's Eve?"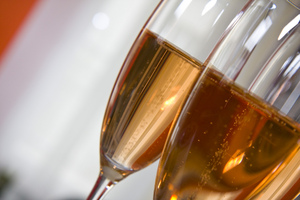 Photo by Flickr user FXR.

Frank Loesser posed the question 62 years ago, and it's still one we ask ourselves every year around this time. Some years we plan far enough ahead and catch our friends before they make their own plans. We'll invite a few close friends over for a big pot of my famous chili, some word games and champagne. Other years, either we procrastinate party planning or we're just feeling like loners and we'll hunker down with cheese fondue and a movie, staying awake just long enough to watch the ball drop at Times Square.

And then there are some years when there are so many great local options for a fine New Year's Eve dinner, that we decide to brave the crowds and the bad drivers and make a night of it. This is one of those years, and here are just a few of the options to choose from:

eve the restaurant is offering a multi-course prix fixe menu which includes Kumamoto oysters roasted with wasabi butter, ceviche of hamachi with kumquat chutney, lamb terrine studded with apricots and crystallized ginger, langostino étouffée, aromatic braised shortribs, and Paris brest with Bananas Foster. The cost is $65 per person and includes a celebratory toast. Reservations at 734-222-0711.

Weber's Inn has a package, available with or without a room reservation, which includes a dinner buffet, a chocolate fountain, music and dancing in the ballroom, and a champagne toast at midnight. The cost is $219 per couple, or $339 including overnight accommodations. Reservations at 734-769-2500.

Chef Brandon Johns at Grange Kitchen & Bar has put together a 4 course prix fixe menu with his usual focus on local and sustainable ingredients. Offerings include chestnut and duck egg flan with pumpkin seed oil and mushrooms, roasted bone marrow with radishes, sweet butter and sea salt, and duck breast with soy ginger broth and vanilla squash puree. Dinner seatings are available from 5 p.m. until midnight for $55 per person. Reservations at 734-995-2107.

Ever wonder what it would be like to eat at a state dinner in President Warren G. Harding's White House? Zingerman's Roadhouse chef Alex Young has put together a menu based on the historic "White House Cookbook," published in 1922. The a la carte menu includes truffled chicken consomme, Peekietoe Crab Louis, standing rib roast with Yorkshire pudding, potato scaled wild striped bass with Potatoes Lyonnaise. Reservations at 734-663-3663.

Check out our calendar for many other New Year's Eve options, including Brew Year's Eve at Arbor Brewing Company and the New Year's Eve Party at Connor O'Neill's. Whatever your plans, have a safe, healthy and happy new year!