Posted on
Wed, Nov 2, 2011 : 4 p.m.
What to do with all that leftover Halloween candy?
By Jessica Webster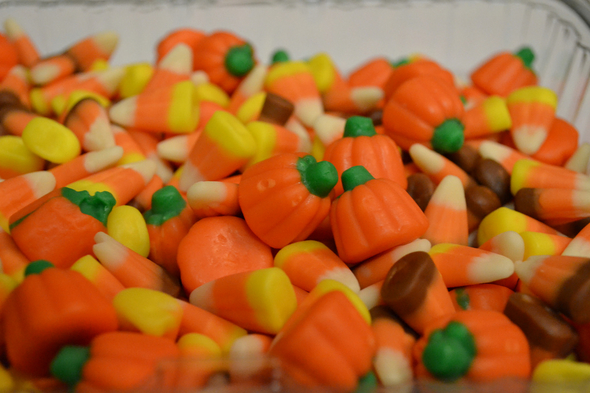 Photo by Flickr user jamalfanaian
Halloween
has come and gone, but the
candy
lingers on. At our house, not only do we have much of the candy we purchased to hand out on Halloween evening, but our son brought home far more candy than he will ever be allowed to consume. What ever will we do with all this candy?
What we usually do every year is put it in a grocery bag, shove it in the pantry, and throw it away after about six months, but that seems unnecessarily wasteful. So this time, I'm investigating my options.
Where to drop off your leftover candy
Donate it:
There are several options available for those looking to donate unopened Halloween candy. Food Gatherers is happy to receive your leftover Halloween candy at their 1 Carrot Way warehouse. Bring along some canned goods or other non-perishables too, and they will weigh it all on the spot and let you know how many people you will be feeding with your donation.
Two local dental practices are participating in Operation Gratitude's Candy Buy-Back Program. Arbor Dental and Urquiola Dental Center will buy back your child's Halloween candy and donate it to military support groups.
Bake with it:
I recently ran across a few intriguing recipes dreamed up by thrifty gourmands. Food Bloggers who write under the moniker Two Chicks From The Sticks have a recipe up for Trick and Treat Brownies. The brownies call for a cup of chopped, mixed chocolate bars.
You might want to try this Halloween Bark recipe, that makes good use of the candy corn your kids will never eat. But by far the most appetizing use of leftover candy corn comes in this Easy Chocolate Truffles recipe that calls for a cup of candy corn or Indian corn and looks remarkably... well... easy.
What's your favorite use for leftover Halloween candy? Post it in the comments section below.
Jessica Webster leads the Food & Grocery for AnnArbor.com. You can reach her at JessicaWebster@AnnArbor.com.