Posted on
Sun, Nov 13, 2011 : 6:29 a.m.
Whatever its origins, chimichurri livens up meals
By AnnArbor.com Staff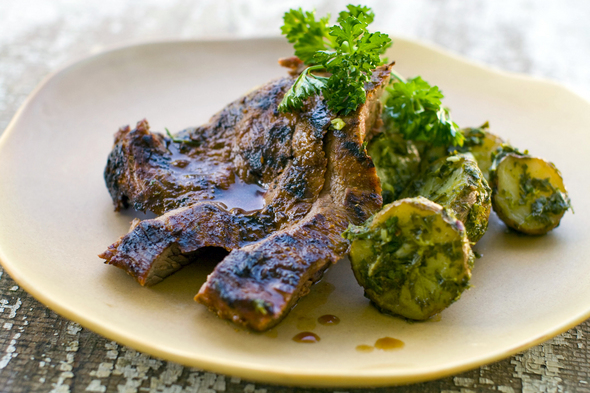 AP Photo | Matthew Mead
ELIZABETH KARMEL, For The Associated Press
Steak and chimichurri sauce is a classic pairing that is legendary in Argentina. But you don't have to be a gaucho or cowboy to enjoy it!
There are as many variations of chimichurri sauce as there are stories of where the sauce came from. My favorite story credits English-speaking colonists for speaking in "Spanglish" and asking for sauce with their meals, which they called curry.
Instead of saying "Che mi salsa," they would say "Che mi curry." And supposedly that somehow got changed around to chimichurri.
Whatever the history, chimichurri is delicious and I make it all year long. It is always that dish that students in my cooking classes make over-and-over again at home.
For those who never have had it, I liken it to pesto and even call it parsley pesto. I love chimichurri even more than pesto because it has a great vinegary tang that cuts through the richness of steak. I've made chimichurri with a lot of different fresh herb combinations and enjoyed them, but none as much as my original version. And I am partial to the curly parsley, not the flat-leaf or Italian parsley that so many chefs use. The curly parsley has a greener, and I think, cleaner flavor than its more popular cousin.
When I visited Buenos Ares, I was surprised that most of the chimichurri in restaurants was made from dried herbs and tasted more of oregano than parsley. And, though that trip taught me that my recipe is Americanized and not an authentic Argentinean chimichurri, I still prefer mine and think it's the best chimichurri I've ever had.
The deep green sauce is most commonly served as a condiment for steak, but I love tossing hot roasted potatoes with the garlicky sauce for a healthier alternative to mashed potatoes that literally burst with flavor!
The meat in this recipe is a family friendly, delicious and economical flank steak. I love flank steak because it is so versatile. It can be thinly sliced and served on toasted or grilled baguette with a dollop of chimichurri for a crowd-pleasing appetizer that will feed at least 15 or 20 people. Or, it can be served up with these chimichurri potatoes for a hearty main course for 6. I also sometimes take leftover chimichurri, toss it with hot pasta and chunks of leftover flank steak; it's a leftover that is good enough to plan for.
___
CUMIN-RUBBED FLANK STEAK WITH CHIMICHURRI POTATOES
Flank steak should be served medium rare and cut across the grain for maximum tenderness.
Start to finish: 1 hour
Servings: 6
1 teaspoon granulated garlic
1/2 teaspoon smoked paprika
1/2 teaspoon whole cumin seed
1 1/2- to 2-pound flank steak (about 3/4 inch thick)
Olive oil
Kosher salt
Heat a grill or grill pan to medium.
In a small bowl, mix together the garlic, smoked paprika and cumin seeds. Set aside.
Trim the steak of any surface fat. Brush it lightly with olive oil, then press the seasoning rub into both sides. This step can be done up to the night before or right before cooking.
Just before cooking, season the steak with salt. Place the steak on the grill or grill pan and sear. Cook for 4 to 6 minutes. Turn the steak and sear the second side. Continue grilling until done, about 3 to 5 minutes.
Transfer the steak to a platter and let rest 5 to 10 minutes before carving. To serve, cut the steak across the grain into thin diagonal slices and sprinkle with salt. Serve warm accompanied by chimichurri potatoes and extra sauce.
Nutrition information per serving including chimichurri potatoes (values are rounded to the nearest whole number): 500 calories; 250 calories from fat (49 percent of total calories); 27 g fat (6 g saturated; 0 g trans fats); 50 mg cholesterol; 27 g carbohydrate; 36 g protein; 3 g fiber; 740 mg sodium.
___
CHIMICHURRI POTATOES
The potatoes can be served warm, cold or room temperature. Just make sure to toss again before serving.
For the potatoes:
2 pounds red or other small potatoes, halved or quartered
Olive oil
Kosher salt
For the chimichurri:
2 cups lightly packed chopped curly parsley
2 to 4 cloves garlic
1/2 teaspoon fine-grain sea salt
1/4 teaspoon ground black pepper
1/4 teaspoon red pepper flakes
1 tablespoon minced shallot or onion
1/3 cup extra-virgin olive oil
1 1/2 tablespoons sherry wine vinegar or red wine vinegar
1 1/2 tablespoons lemon juice
Heat the oven to 350 F. Place a wire rack over a rimmed baking sheet.
In a medium bowl, toss the potatoes in just enough olive oil to coat. Sprinkle with salt and toss again. Place the potatoes one-by-one on the rack. Toast in the middle of the oven for 30 to 40 minutes, depending on size. You will not need to turn the potatoes and they should be crispy on the outside and soft and tender on the inside. Alternatively, the potatoes can be roasted on your grill on the warming rack or in the center of the cooking grate using medium indirect heat.
Meanwhile, prepare the chimichurri (it also can be done the day ahead). Combine all ingredients in a blender and pulse until well chopped. It will have a beautiful green color and look like pesto. Return the warm potatoes to the medium bowl. Add some of the chimichurri sauce and toss to coat.
___
EDITOR'S NOTE: Elizabeth Karmel is a grilling and Southern foods expert and executive chef at Hill Country Barbecue Market restaurants in New York and Washington, as well as Hill Country Chicken in New York. She is the author of three cookbooks, including "Soaked, Slathered and Seasoned."