Posted on
Wed, Jun 13, 2012 : 11:15 a.m.
When life gives you strawberries, make strawberry basil sorbet
By Jessica Webster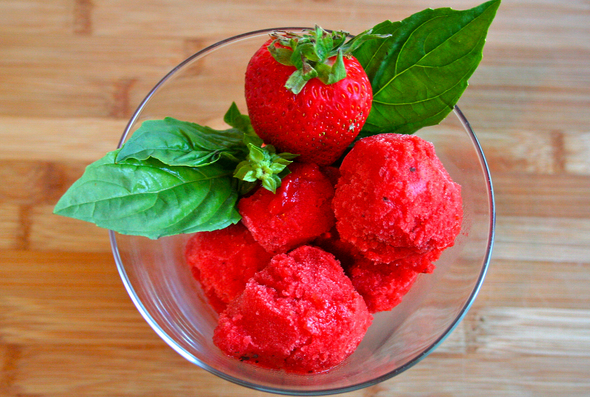 Jessica Webster | AnnArbor.com
We're deep into strawberry season, and I'm enjoying every minute of it. Is there anything more satisfying than a big bowl of strawberries for breakfast? Or topped with just a dollop of whipped cream at dessert? I think not.
We're taking full advantage of the bountiful berries, picking up a quart with every grocery trip. We've been making smoothies and shortcakes, mixing them with mangoes or just eating them plain. My fingers are turning red at the tips from all the strawberry slicing I've been doing.
Last week a friend and I took my son and a couple of his classmates strawberry picking at a nearby u-pick farm. I was surprised at how many berries the kids were able to pick, especially considering that they never stopped talking once during the visit. We headed home with more berries than I knew what to do with.
The problem with perfectly ripe, just-picked, dripping with juices strawberries — and this really is the one and only problem — is that they have a very short shelf life. Once you get them home, you need to eat them or process them pretty quickly. I'm pretty good at dealing with quarts of strawberries, but we're talking about flats of strawberries here.
I invited family over for dinner, and we all enjoyed heaping bowls of berries for dessert. I still had many pounds of strawberries left over, though, and I really didn't want to waste them.
While I was sitting on my back deck preparing batches of berries for the freezer, I caught a glimpse of my very healthy lemon basil plant and had a flash of inspiration. I've enjoyed delicious strawberry basil lemonade … what about strawberry basil sorbet?
The recipe is ridiculously easy. Just whip together some basil simple syrup, blend it with fresh berries and some lemon juice, and process it in an ice cream maker. The hands-on time for this recipe is well under 20 minutes.
If you don't have an ice cream maker, just put the mixture in the freezer and blend every two hours 3-4 times. Then keep it in the freezer long enough for it to get nice and firm — 6 to 8 hours or overnight.
You'll love the vibrant hue you'll get with the fresh berries. Serve it with some basil leaves for some color contrast. Shortbread cookies make a nice accompaniment.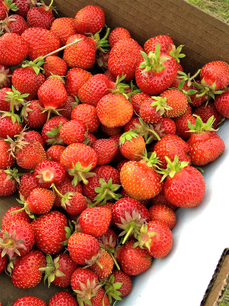 Jessica Webster | AnnArbor.com
Strawberry Basil Sorbet
adapted from a recipe on
USMasala.blogspot.com
Ingredients
1 pound fresh strawberries
1 cup fresh basil leaves
1/2 cup sugar
1/2 cup water
2 tablespoons lemon juice
Directions
Start by making the basil syrup. Combine the water, sugar and basil in a medium saucepan. Simmer until the sugar has completely dissolved; about 6 minutes. Strain out all but 2 or 3 basil leaves, and then chill in the refrigerator for about an hour.
While the syrup is chilling, wash, hull and quarter the strawberries.
Puree the strawberries, lemon juice and basil syrup until smooth. Chill the mixture for an hour, then turn out into an ice cream maker and process according to the manufacturer's instructions.
Jessica Webster leads the Food & Grocery section for AnnArbor.com. You can reach her at JessicaWebster@AnnArbor.com.