Posted on
Wed, May 8, 2013 : 1:30 p.m.
Where is your favorite place to enjoy a weekend brunch?
By Jessica Webster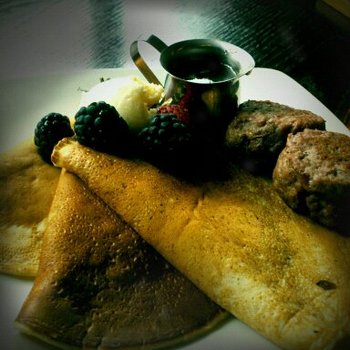 Jessica Webster | AnnArbor.com
Growing up,
brunch
was one of my favorite meals. It was a rare treat, usually experienced when my grandparents were in town. The best brunch in my small town was found in the dining room of our downtown upscale hotel. The white tablecloths, the omelet station, the fresh fruit on the buffet line that was served with huge dollops of whipped cream... all of these images and flavors are burned into my memory.
As an adult in Ann Arbor, I'm still very much a fan of brunch, and we have more choices than I'm able to fully appreciate. From the dizzying array of choices at Gandy Dancer's excellent Sunday brunch to the "simple, honest" choices at Beezy's in Ypsilanti, to the ridiculously delicious sweet and savory explosion that is the Grits & Bits waffle at Zingerman's Roadhouse, we've got a whole lot of brunch here.
With Mother's Day coming this weekend, brunch has been on my mind more than it usually is. Gandy Dancer was fully booked by the time I got around to making my reservations this year, so we're deciding between all of the other ridiculously delicious choices. Will we enjoy a breakfast pizza at Jolly Pumpkin? A southern omelet at Benny's? Buttermilk lemon pancakes at Grange Kitchen & Bar?
Now it's your turn to tell us. Where do you like to brunch? Do you while away your weekend hours at an outdoor table downtown, or do you prefer a buffet brunch at the local country club? Hippie Hash at Fleetwood Diner or mimosas around the corner at Cafe Zola? Tell us in the comments below, and we'll pull together a poll of your favorites Thursday afternoon.
Jessica Webster leads the Food & Grocery section for AnnArbor.com, a part of the MLive Media Group. Reach her at JessicaWebster@annarbor.com. You also can follow her on Twitter or subscribe to AnnArbor.com's email newsletters.