Posted on
Thu, Apr 4, 2013 : 2:41 p.m.
Some of the best places to watch the Final Four game on Saturday
By Jessica Webster
• Related story: University of Michigan not hosting public watch party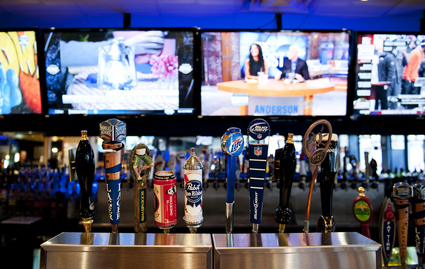 Daniel Brenner I AnnArbor.com
As a transplanted upstate New Yorker but longtime Ann Arbor resident, I'm having a difficult time deciding which team has my loyalty in Saturday's
Final Four
basketball matchup between the
Michigan Wolverines
and the Syracuse Orangemen. And that's not my only big decision. Where will I go to watch this epic ballgame?
I've narrowed my choices down to an Elite 8: bars and restaurants where I could enjoy a cold beer, some good food, and the experience of watching an exciting game in the company of a crowd of enthusiastic Michigan fans. Other ideas? Let us know in the comments.
1. Fraser's Pub, 2045 Packard St., Ann Arbor: This no-nonsense, no-frills neighborhood sports bar has an anachronistic feel, but the food is good and the beer list has a nice selection of excellent microbrews. Throw in some big-screen TVs, and it's hard to beat.
Fraser's owner Ron Sartori told me it will be business as usual on Saturday, albeit with a much larger crowd.
"It's first come, first served, no reservations," said Sartori. "We're expecting to have to turn people away, so come early. And hopefully we will do it again on Monday!"
2. Casey's Tavern, 304 Depot St., Ann Arbor: It's business at usual at this Depot Street restaurant and bar on Saturday, too. If you're looking for a low-key, food oriented experience, this might be your top pick.
"We'll have the game on," said Casey's general manager Paul Thomas. "Come on in and watch it. We're open until 11."
3. Colonial Lanes/Cubs A.C. 950 S Industrial Hwy, Ann Arbor: A coworker referred to this as a "hidden gem" for watching high-profile games. All screens will be tuned to the ballgame, so whether you're hanging out in the bar or bowling a few games, you can't miss the fun.
The place fills up fast, so events manager Elizabeth Swanguarin recommends you make a reservation in advance.
"Things get started at around 7:30," said Swanguarin. "We'll have giveaways — including Tigers tickets — throughout the game. It's a lot of fun."
4. Knight's Steakhouse, 2324 Dexter Ave., Ann Arbor: Knight's might not be top of mind when you think of places to watch a game, but where else can you enjoy a stiff drink, a good steak, and that unique Ann Arbor old-school townie vibe?
"We get a great bar crowd. A fun crowd," said manager Lindsay Bedolla. "We've got three or four TVs, and comfortable booths all around the TVs. And,of course, we've got the best drinks in town!"
5. Aubree's Saloon, 39 E. Cross St., Ypsilanti: "It's going to be crazy," laughed assistant manager Robert Gluch. "We'll fire up the game everywhere — on TVs and the loudspeakers — and the fight song will be cued up to play whenever something exciting happens."
Aubrees will have 20-ounce Budweisers for $2.75, and $4 20-ounce pours of Arbor Brewing Co. Bollywood Blonde on special for the game.
"I think we get busy a little later than some of the Ann Arbor bars," said Gluch. "We expect to fill up at around 7:20 or so."
6. R.U.B. BBQ and Pub, 640 Packard St., Ann Arbor: Located at the corner of State and Packard in the former Packard Pub space, R.U.B. BBQ is chock full of meat, beer and TVs. It's the perfect spot for a Final Four viewing.
"It's going to be absolutely mayhem here for us. We're certainly excited for it," said regional manager Omar Mitchell. "We're open until 2 a.m. Bud Light pitchers will be $5. We'll have other drink specials starting at 10 p.m. We'll have a special dish called 'The Big House Is On Fire' with a 'Fab Five' of different smoked meats. And there will be giveaways — trinkets, T-shirts and hats — all night."
7. The Arena Sports Bar & Grill, 203 E Washington St., Ann Arbor: Owner Mike Flore is a Spartan through and through, but he's happy to celebrate Michigan's Final Four appearance with his customers.
"We're going to be stupid busy," laughed Flore. "We (as a staff) try to have as much fun as everyone else is having. It gets crazy, but it's a great atmosphere."
Flore says they'll have food and drink specials all night, and they're working on a special blue drink to celebrate the team.
"We've already got a drink called the Blue Smurf. We might just rename that 'The Wolverine' for Saturday night."
Expect big crowds at The Arena. Flore anticipates that they will be at capacity by 7 p.m. or so. And noise. Lots of noise.
"Last weekend a customer told me it was the loudest he'd ever heard it here."
8. Conor O'Neill's, 318 S. Main St., Ann Arbor: Want to knock back a beer and enjoy some fish and chips or shepherd's pie while you cheer for Michigan? Conor's will have all televisions tuned to the game, and they are running a Stella Artois promotion all day. The pub attracts a nice blend of students and locals.
Jessica Webster leads the Food & Grocery section for AnnArbor.com. Reach her at JessicaWebster@annarbor.com. You also can follow her on Twitter or subscribe to AnnArbor.com's email newsletters.