Posted on
Mon, Jan 7, 2013 : 4 a.m.
Creamy-Thick White Chili with Rotisserie Chicken - adjust heat level by serving peppers on the side
By Peggy Lampman
Peggy Lampman | Contributor

My dinnerFeed web site is a lean,
mean fighting machine!
To receive my lastest dinnerFeed posts
by email, sign up here.
Richard's birthday was this week and he requested I make white chicken chili, which I generally make quite spicy. But with a passel of children and their sensitive taste buds joining the revelry, I reduced the heat index by using only 1 serrano pepper and 1/2 teaspoon chipotle chili powder, and I placed the jalapeno peppers and hot sauce on the side. You can always add heat, but removal is problematic (that bread trick has never worked for me).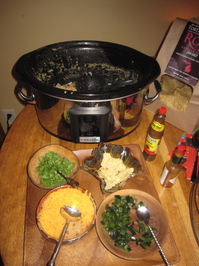 The fun thing about serving chili is mixing and matching the accoutrements. I served this batch with broken tortilla chips, chopped cilantro, cheddar cheese, hot chopped peppers and hot sauce on the side.
Speedy chilis such as this are often thin because they don't have the opportunity to thicken over a long, slow simmer. In this recipe, I mixed cornstarch into the stock and mashed up half of the white beans, which nipped that problem in the bud. I love adding beer to chili; the alcohol evaporated in the heat, yet the flavor remains. Substitute the beer with chicken stock, if desired.
Sour cream, diced avocado and cooked corn kernels would be a great addition, as well. If the chili didn't incorporate beer, I would have included lime wedges. Recipe can be easily doubled.
Happy Birthday, Richard!
Yield: 6-8 servings
Active Time: 25 minutes
Simmer Time: about 30 minutes
Ingredients:
1 1/2 tablespoons corn starch
3 1/2 - 4 1/2 cups chicken stock
1 tablespoon canola oil
1 jalapeno pepper, finely chopped
1-2 medium-sized poblano peppers, chopped
1 yellow onion, chopped
1 tablespoon, minced (1 tablespoon) garlic
1 tablespoon ground cumin
1/2-1 teaspoon ancho or chipotle chili powder
3 (14.5-ounce) cans white beans
1 (12 ounce) bottle of your favorite beer*
1 tablespoon brown sugar, optional
1 rotisserie chicken, skin removed and meat shredded (6 cups)
*Substitute with chicken stock, if desired
Directions
1. Stir cornstarch into 3 1/2 cups of chicken stock.
2. Heat oil in a heavy-bottomed pan or Dutch oven over medium heat. Stir in peppers, onions, and garlic and saute until fragrant, 4-5 minutes. Stir in cumin, 1/2 teaspoon chili powder and continue to saute for an additional minute. Stir in the beer and chicken stock-cornstarch mixture and bring to a boil; reduce heat and simmer five minutes.
3. Drain and rinse beans, mashing half of the beans with until chunky. Add the beans and continue to simmer an additional 25 minutes, stirring occasionally, adding additional peppers and/or chili powder to taste.
4. Stir in the shredded rotisserie chicken and simmer until heated through. Serve with desired toppings.
Peggy Lampman is a real-time food writer and photographer posting daily feeds on her website and in the Food & Grocery section of Annarbor.com. You may also e-mail her at peggy@dinnerfeed.com.