peggy lampman's dinnerfeed
recipe:

Wild Arugula Salad with Fresh Mozzarella and Prosciutto Vinaigrette

Posted on Fri, Jun 15, 2012 : 2:34 p.m.
Peggy Lampman | Contributor

To receive my lastest dinnerFeed posts
by email, sign up here.
The Produce Station is such a fun place to shop. It's like diving into the spectrum of a rainbow, with its purple-fuchia facade, colorful flowers, plants and the produce stands groaning under the weight of the latest local farm offerings.
The charming store blossoms in the spring, with fresh vegetables and herbs begging to be planted in kitchen gardens across town.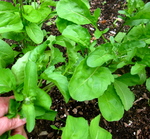 In fact, the arugula used in today's blog — purchased a month or so back from the Produce Station — is ready for another salad. It's leggy and unstable after the hot and cool temps, so this may be one of my last arugula salads until the fall. (Note below the friendly toad camouflaged in my garden. I've seen him/her on several occasions, and he's made the arugula patch a home. He stood perfectly still as I took his picture.)
Arugula is surely my favorite green, with its pleasant, bitter flavor. In winter months, by default, I regularly purchase the arugula-packed tubs, but they don't come close to the flavor of fresh-picked.
Yield: A dinner salad for 2 (with crusty bread)
Time: 20 minutes
Ingredients:
Scant 1/2 teapoon finely minced garlic
1 teaspoon balsamic vinegar
1/4 cup extra-virgin olive oil
2 packed tablespoons chopped prosciutto
1/2 cup cherry mozzarella balls, sliced
12 cherry or grape tomatoes, halved
3 packed cups arugula, preferably wild, washed and dried
Directions
1. Whisk together garlic, balsamic vinegar and olive oil. Stir in prosciutto. Toss mozzarella and tomatoes into dressing and let marinate a few minutes.
2. Toss with arugula prior to serving.